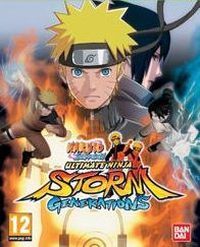 Game mode: single / multiplayer
Naruto Shippuden: Ultimate Ninja Storm Generations for X360 and PS3 is another installment in the Naruto: Ultimate Ninja series. The game was created by Cyberconnect 2 – a team that had also developed the previous Naruto games.
Mechanics & Game modes
Again, the experience was divided into two main modes. Fighting is the first and the player assumes the roles of the most popular characters created by Masashi Kishimoto here. Among them, the player will find the main fighters from the original franchise, as well as those introduced in the Shippuden subseries. Each of the in-game ninjas has a separate fighting style and their own set of special attacks. The most powerful of those cause great amounts of damage or transform one's character, which makes them substantially more powerful.
Naruto Shippuden: Ultimate Ninja Storm Generations for X360 and PS3 offers a story mode as well, and the player will participate here in the greatest battles from the original manga series. The campaign was divided into the stories of particular characters - many of them reveal information about themselves here, and those are completely new facts. Importantly, the manner in which the plot was previously presented has changed. Instead of a game world for the player to explore, the creators decided on implementing simple comic strips, the narrative itself, as well as the animation. Consequently, gameplay as such is based here exclusively on different characters fighting one another. In terms of the story encompassed in this game, it goes on until meeting the Five Kage.
The combat system in Naruto Shippuden: Ultimate Ninja Storm Generations for X360 and PS3 has not changed considerably, though several minor novelties were introduced in the game nonetheless. As a result, the player now has a new method of dodging enemy atacks, and the ability to transform their characters in order to become even more powerful. In the multiplayer mode, cards modifying characters' capabilities are very important.
Technical aspects
Once again, the acclaimed art style was applied here as well. Cel-shaded graphics make a perfect job of representing the specific style of Japanese animation.
Similar games:
PEGI Rating