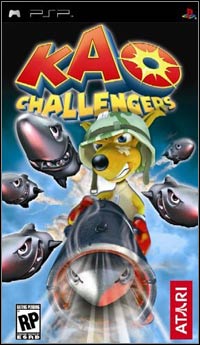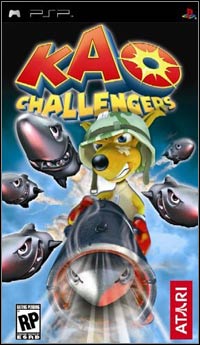 KAO Challengers
PSP
The side-scroller of the popular platform series by the Polish studio Tate Multimedia, prepared exclusively for PlayStation Portable. In Kao Challengers the lovable kangaroo returns to save the animal world from the ambitions of the sneaky hunter Barnaby.
Arcade | 3D platformers | Polish | PlayStation exclusive titles
KAO Challengers

Release Date PSP

28October2005
developer: Tate Multimedia publisher: Atari / Infogrames Official website

game language: English
Story Background
KAO, our young cute yellow kangaroo will have to save the world of animals from Barnaba an evil Hunter and his wicked henchmen. This time, he can count on his friends, like the firefly and the parrot, to help him out achieve his difficult task. The evil Hunter has started his cruel enterprise again. He has set a strong group of his supporters in different lands and with their help captured and traded their inhabitants. His deeds brought a lot of fuss and nervousness to the world of animals. The Hunter's headquarter was established in the Port Town, from where he rules all the lands. Kao starts his adventure locked in a cage travelling in a ship to the Port Town. Luckily during the journey the Parrot finds Kao and destroys his cage so, when the ship docks he manages to escape. Wandering around the Port he meets the Parrot again, which tells him fate of other animals and asks him for help. Kao has to visit all the worlds, helping animals and collecting coins. He needs them to bribe the guardian protecting the Gate leading to Hunter's Headquarters.
Main Engine Features
KAO CHALLENGERS presents more than 20 levels within 5 worlds that are visually and graphically totally unique showing an environment and an atmosphere that differentiate each world and level.
Kao needs lots of skills, in order to succeed in his quest, which means tens of animations. As almost every enemy has a different personality (it is especially underlined with bosses) they attack and behave in different ways. They jump, fly, throw objects and dodge Kao's attacks or swim and fight underwater. Smooth transitions and exaggerated but exact animations underline the cartoon style of the game and put life to all characters. Face mimics both of Kao and enemies bring more emotion to their movement and give them even more personality. The reality and attractiveness of the game is additionally boosted by special effects (motion blur, blending,). Flocks of birds or fishes based on particle systems and realistically moving objects calculated by physics simulator increase the interactivity of the environment, which gives the player a feeling of visiting an entire epic, imaginary, colourful but still very real world.
Key Gameplay Features:
As well as the basic abilities of our cute hero like running, jumping and several ways of attacks he can also perform lots of special actions. Flying, throwing boomerangs, cones and other objects, climbing using his long ears, swimming or skating are just beginning of the list of his abilities. Add to this the interacting with characters and controlling different objects like floating platforms or barrels, not to mention about hiding in objects to avoid obstacles and we have an extremely diversifying game-play.
Real time cut scenes explain the story, help player to reach the goal and enrich the game with a plot turning it into and interactive fable rather then just another platform game.
Bonus levels with hand-skilled game-play break the standard mood of the game giving the layer a relief after long hours and additional extra fun.
Control amazing vehicles including a snowboard, a catapult, a pelican, a water barrel and a motorboat.
Overcome over 30 challenging enemies with 7 fighting techniques from boomerang throwing to devastating tail attacks!
15 different weapons in multiplayer mode including: bombs, fire flamer, magneto to suck energy out of your opponents, and auto missile.
Game mode: single / multiplayer Multiplayer mode: Player counter: 1-4
Media type: 1 UMD
User score: 7,7 / 10 based on 213 votes.
PEGI rating KAO Challengers
KAO Challengers System requirements