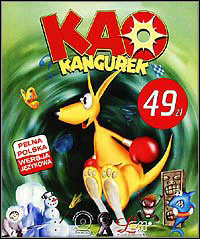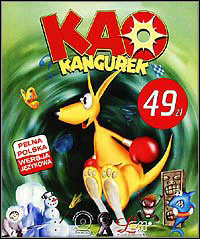 KAO The Kangaroo (2000)
PC
A colorful, three-dimensional platformer inspired by classic action-adventure series such as Rayman or Croc. The players assume control of Kao, a kangaroo that has been kidnapped and taken far away from his homeland.
Arcade | TPP | 3D platformers | Polish
KAO The Kangaroo (2000)

Release Date PC

23November2000
developer: X-Ray Interactive publisher: Titus Interactive Official website

game language: English
The famous Rayman series have inspired the developers from Polish X-Ray Interactive to create a platform game that would capture the attention of the domestic audience. The guidelines were simple: colorful graphics, fast-paced action, and lack of any real violence.
Plot
The adventures of the titular kangaroo are almost completely devoid of any plot. The players learn that the main hero has been caught by a poacher and put on a ship that took him far, far away from his home. Fortunately, the kangaroo manages to find a pair of boxing gloves that allow him to escape the captivity and embark on a dangerous and lengthy way back home.
Mechanics
We are left with fifty varied levels that take place in a number of different worlds, including a tropical Island, Arctic, or even outer space. As could be expected, the game is full of arcade elements, as the main hero has to get past numerous obstacles, gather valuable items (such as coins or streamers) as well as avoid dangerous opponents, including snowmen, rats, sailors, or spiders. Some of the levels see us assume control over numerous means of transportation – hang-gliders, a snowboard, or even a spaceship.
From time to time, we have to face a menacing boss that has to be defeated in a boxing match. Combat is quite difficult and fun-oriented at the same time.
Technical Aspects
The graphics are powered by a dedicated engine and are characteristic for their vivid colors, while the action is seen from a third person perspective camera, interchanged with side-scrolling segments. The soundtrack is mild and ear-friendly, and is adjusted to the situation at hand. Moreover, the sounds do not distract the player.
Last updated on 13 April 2023
Game mode: single player
Media type: 1 CD
User score: 8,4 / 10 based on 1667 votes.
Age restrictions KAO The Kangaroo (2000): Good for all ages.
KAO The Kangaroo (2000) System requirements
Minimum:
Intel Pentium III 600 MHz
128 MB RAM
graphic card 32 MB
260 MB HDD
Windows 7