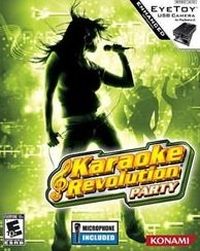 Karaoke Revolution Party
The next installment of a popular series of games about music. This time there are about 50 popular songs to sing. Noteworthy is the ability to unlock hidden objects and play modes.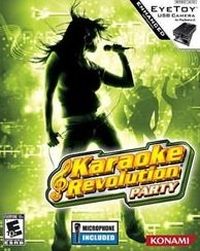 Game mode: single / multiplayer
Multiplayer mode: common screen, players: 1-8
Karaoke Revolution Party is another representative of a very popular series of music games. As in the previous installments in the series, the player's task is to sing songs according to the pattern appearing on the screen. It is worth noting that, the game was developed mainly for larger groups of players. Karaoke Revolution Party offers multiplayer modes for up to eight people. Nevertheless, a soloplayer should also not complain about lack of attractions. The game was released on the most popular models of consoles. The PS2 version offers free support for the EyeToy webcam. The Xbox edition is integrated with the Xbox Live service. The Gamecube version is the worst in this respect, offering fun only with a microphone (or several microphones). Harmonix is responsible for developing the game, a team also known from such games as Guitar Hero II, or Amplitude.
One of the main advantages of the title is a very wide range of available modes. Some of them are designed for single player, in other modes, we can play in larger groups. Every time our progress is properly scored. For this purpose, a rather complicated module is used, which evaluates, among other things, the tone or quality of modulation on the basis of the recording. As a reward for subsequent achievements, we can unlock hidden game modes, interesting items (such as new costumes), or platinum discs, which are the most valuable trophy of the game.
One of the most serious changes concerns the addition of the possibility of using a dance mat to play. This device can be connected to all versions of the game. In this case, we have to make sure that the correct movements are made. Unlike previous installments, in which we could choose between about thirty songs, this time there are as many as 50 of them. The songs come from many different music genres (rock, dance, pop, etc.). Visually, the game looks extremely good, although everything was constructed in such a way as not to distract the player from singing.
Age Rating
age requirements: everyone
System requirements
Nintendo GameCube
Uses: memory card
Sony PlayStation 2
Uses: Eye Toy, memory card
Microsoft Xbox
Uses: Xbox Live!