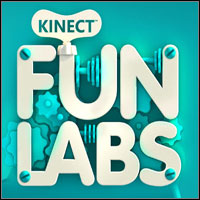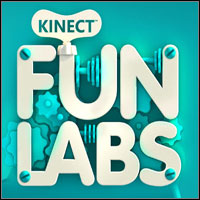 Kinect Fun Labs
X360
A free set of mini-games and applications that are designed to show the capabilities of the Kinect xbox motion controller. A particularly interesting option is the ability to scan real objects and thus transfer them to the console in the form of three-dimensional objects.
Kinect Fun Labs

Release Date X360

06June2011
developer: Xbox Game Studios / Microsoft Studios publisher: Xbox Game Studios / Microsoft Studios Official website

game language: English
LAY, EXPERIMENT, AND SHARE YOUR DISCOVERIES WITH THE WORLD!
Kinect Fun Labs lets you discover and play with the newest advances in Kinect technology. You'll find innovative Gadgets such as Kinect™ Me and Bobble Head that utilize Kinect's people-scanning tech to turn you into an amazingly realistic avatar or talking bobble head. Other Gadgets use innovations in object scanning, background removal and finger tracking to let you scan in almost anything in 3D and give it a personality, or even turn your living room into a 3D canvas of light and imagination. And since Kinect innovation never stops, new Gadgets are launching all the time.
Relive your favorite Kinect Fun Labs moments, and share them with your friends at KinectShare.com. While you're at it, vote for the Kinect community project you'd most like to see become a Fun Labs Gadget!
Game mode: single player
PEGI rating Kinect Fun Labs
Kinect Fun Labs System requirements
Uses:
Xbox Live
additionally (X360): Kinect