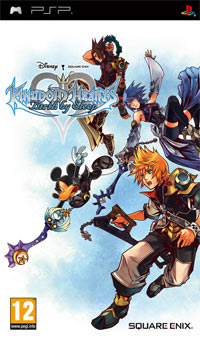 game language: English
game release date for PSP:
09January2010
Kingdom Hearts: Birth by Sleep is a Japanese cRPG game, a continuation of the Kingdom Hearts trilogy. Square-Enix studio is responsible for the best-selling Final Fantasy cycle. The game was developed by the same team that previously created the GBA edition of the series, entitled Chain of Memories.
The action of the game takes place ten years before the events presented in the original Kingdom Hearts. Birth by Sleep takes us to a fairy-tale land straight from Disney's films. The story is divided into three simultaneous campaigns. Each of them focuses on one of Master Keyblade's three apprentices who set off on a journey. The main goal is to find Master Xehanort and his disciple, whose disappearance led to a series of unfortunate events, ultimately leading to disaster. The three students whose fate we will manage are called Terra, Ven and Aqua. Known Disney characters such as Donald Duck, Mickey Mouse, Alladin and Goofy will play again in the game. There are also new opponents.
The gameplay resembles the one known from the previous parts of the game, although each campaign will offer a change. The three main characters have different skills, so sometimes we fight in close combat and sometimes from a distance. During combat we use these cards to inflict special attacks. We are informed about the course of the fight by life bars, showing the level of energy of our and the opponent. After many passages, our heroes will be able to advance to higher levels of experience. You can save the state of your campaign at any time and switch to another hero. Only the completion of all three scripts will give us a chance to get to know the full story of the game.
The world presented here is a fairy-tale land well known to fans of the series, which, due to the fact that the game is a prequelem, has been appropriately rejuvenated. We get to places like Olympus, where we will meet young Hercules. We will also visit the Island of Destiny. The enchanted forest of the Sleeping Beauty is a new location. Graphics combines the Disney line with the aesthetics of anime.
Please let us know if you have any comments or suggestions regarding this description.

Game score 8.6 / 10 calculated out of 149 players' votes.
Expectations before the premiere: 9.3 / 10 calculated out of 77 players' votes.
Age Rating
age requirements: everyone
System requirements
PlayStation Portable
Uses: memory card 32MB