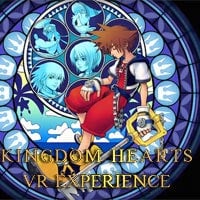 game language: Japanese
game release date for PS4:
23January2019
Kingdom Hearts: VR Experience is a ten-minute interactive film for fans of the Kingdom Hearts series. The production was made available for free by Square Enix as part of the Kingdom Hearts III promotional campaign.
Mechanics
As the name suggests, Kingdom Hearts: VR Experience is not a fully fledged game. During the game we get the opportunity to experience the most important moments of history. Kingdom Hearts and its heroes: Sory, Roxas and others. There are also sequences in which we face our opponents while holding Keyblade - an iconic weapon of the cycle. In addition, the completion of production allows for unblocking additional content.
Technical issues
Kingdom Hearts: VR Experience uses the goggles of the virtual reality of PlayStation VR. Graphically we get classic Kingdom Hearts, combining colourful Disney animations with a slightly more serious style in the style of the Final Fantasy cycle.
Please let us know if you have any comments or suggestions regarding this description
PEGI Rating
System requirements