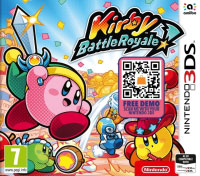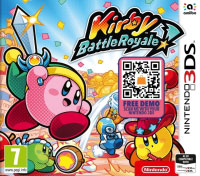 Kirby: Battle Royale
3DS
An action game with fighting game features. It was developed to celebrate the 25th anniversary of the Kirby series. Kirby: Battle Royale was developed by HAL Laboratory. The studio created ten gameplay modes.
Kirby: Battle Royale

Release Date 3DS

03November2017
developer: HAL Laboratory publisher: Nintendo Official website

game language: English
Kirby: Battle Royale is another installment of the Kirby series, which has been developed for years. This time it is a game intended for 3DS released on the 25th birthday of the series. The title was developed by HAL Laboratory, one of Nintendo's most important partners.
Mechanics
The title is an arcade action game with fighting game elements, in which most of the time we observe the game from a camera placed above the battlefield, although sometimes the perspective changes and the image from the side is shown. Kirby: Battle Royale offers a single-player mode, but spreads its wings only in multiplayer. The players find themselves on a small arena. Everyone controls the eponymous Kirby, a pink creature that can take over the powers of its enemies, so that it can e.g. create ice barriers, throw a lasso or fight with a sword. The game is simply about dueling. The combat system is not complicated, the heroes don't have any complex combos, so we have to run, avoid attacks and strike at the right moments.
Game modes
Kirby: Battle Royale offers ten different gameplay modes. In one case it is enough to beat the opponents, in the other we need to collect stones and carry them to machines, and in the next to transport ammo to the cannons shooting at a monster located in the middle of the arena.
The game supports multiplayer mode for up to four players. You can have fun both locally and over the Internet, as this is the first installment of the series to offer online mode.
Technical aspects
The project uses the capabilities of handheld 3DS console, offering eye-catching visuals. In combat we sometimes see spectacular special effects, e.g. during explosions, the devs prepared several different arenas, and the powers of the characters are symbolized by the outfits they wear.
Game mode: single / multiplayer Multiplayer mode: Internet Player counter: 1-4
PEGI rating Kirby: Battle Royale