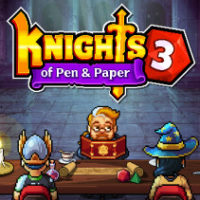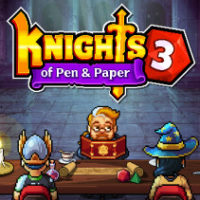 Knights of Pen & Paper 3
PC
Knights of Pen and Paper 3
Knights of Pen & Paper 3 is the third installment of a humorous, laidback series simulating tabletop RPG campaigns. The game features pixel art visuals, turn-based combat and lets us play both as the party members and the game master.
RPG | fantasy | turn-based | 2D | humorous | indie games
Knights of Pen & Paper 3

Release Date PC

07March2023
developer: Kyy Games publisher: Paradox Arc

game language: English
Knights of Pen & Paper 3 is an indie RPG portraying a tabletop RPG campaign. It was developed by the Finnish studio Kyy Games, making use of a colorful pixel art artstyle. The game is laidback, humorous and features numerous pop culture references.
Mechanics
Just like in the series' previous installments, the third game once again has us controlling the participants of a tabletop RPG session, including the game master running the adventure. First, we must create characters for each party member. Knights of Pen & Paper 3 features a number of playable races (such as humans, elves, dwarves) and classes (such as warriors, wizards, shamans). Each class has different stats, preferred equipment and skills. This is also the first game in the series to support multiclassing - taking several classes at once, gaining access to a wider range of abilities.
During the campaign we travel across a diverse map, including regions such as deserts, grassy plains and snowy mountains. Populated areas are where we receive quests, after which we must set out to battle enemies. Combat in Knights of Pen & Paper 3 is turn-based, with turn order determined by initiative rolls.
Our characters need to spend energy to use their skills. We can attack enemies with our weapons, cast offensive spells (like a fireball) or supportive spells (such as resurrection). Leveling up increases the power of our skills as well, keeping them useful even later on in the game.
Last updated on 14 March 2023
Game mode: single player
Age restrictions Knights of Pen & Paper 3: 12+
Knights of Pen & Paper 3 System requirements
Minimum:
Intel Dual Core i5
1 GB RAM
graphic card 1 GB GeForce GTX 460 or better
1 GB HDD
Windows 7 64-bit