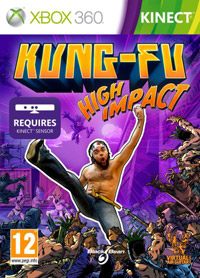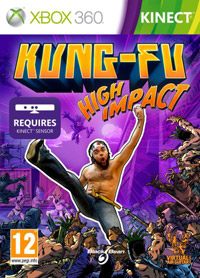 Kung-Fu High Impact
X360
Kung-Fu High Impact is a comic book pastiche-style beat up fight, created under the responsibility of Virtual Air Guitar Company's development team.
Kung-Fu High Impact

Release Date X360

25November2011
developer: Virtual Air Guitar Company publisher: Black Bean Games Official website

game language: English
Kung-Fu High Impact is another project of Virtual Air Guitar Company, after Kung-Fu Live, related to Eastern martial arts, or more precisely their pastiche. Developers have used the potential of the Kinect controller, allowing players to create a hero with their likeness, as well as manually make murderous combinations of blows.
The game offers six fun modes (including a tutorial and a private comic book), the most extensive of which is the main campaign. It consists of 14 levels and storyline episodes woven between them. The player takes on the role of himself and, as a kung-fu master, sets out to fight the monsters that have captured the comic world. There are many types of opponents in his path, including powerful board bosses. Other game modes are Custom Fight, i.e. fight in a selected environment with selected enemies and survival mode. For fans of multiplayer duels there is an option of clashes involving five players, where one plays the role of a hero and the others control the deeds of the monsters.
The game is based on using the technical capabilities of the Kinect controller. A built-in camera scans the player's body and places the image on the main character's model. During the game, the participant has to be very active, making kicks, blows and jumps by hand. The creators also took care of a number of elements that add colour to the duels, including the possibility of using bonus items (e.g. magic bow) and special powers.
Kung-Fu High Impact is distinguished by its original visual design. Like the classic Mortal Kombat games, graphics combine three-dimensional character models with two-dimensional backgrounds. The whole was made in goal-shading technology, which allowed to achieve a clear effect of comics.
Please let us know if you have any comments or suggestions regarding this description.
Last updated on 24 September 2012
Game mode: single / multiplayer Multiplayer mode: Player counter: 1-5
Age restrictions Kung-Fu High Impact: 12+
Kung-Fu High Impact System requirements