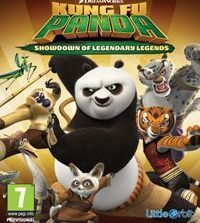 Game mode: single / multiplayer
Multiplayer mode: Internet / common screen
Kung Fu Panda: Showdown of Legendary Legends is a 3D brawler set in the Kung Fu Panda universe known from a series of popular movies and TV shows. The studio behind the game is Vicious Circle (previously known as Monkey Bar Games), an American game developer renowned for a series of successful games based on animated movies – Flushed Away, Despicable Me: The Game and several installments in the Ben 10 series. The game was published by Little Orbit, a company that specializes in children games, whose portfolio includes such series as Adventure Time, Monster High, and Barbie.
Plot
The plot involves the epic Legendary Legends Tournament featuring 20 outstanding warriors of the Kung Fu Panda universe. Players can play as heroes depicted in the movies and in the Kung Fu Panda: Legends of Awesomeness TV series, including such popular characters as Po, Tigress, Monkey, Tai Lung, and Master Shifu. Moreover, the game offers four hidden characters featured in the Kung Fu Panda 3 movie, which need to be unlocked.
Mechanics
The gameplay mechanics resembles the Super Smash Bros series available for Nintendo consoles. The game features fights intertwined with numerous cutscenes and flavored with some arcade elements. The fights are held on many different arenas divided into three groups. The first group includes traditional stages where players must make sure that the opponent will not push them off the edge of the arena. The second group involves special moving stages where the players fight on constantly moving platforms. Finally, the third group – moving arenas that are packed with additional obstacles, such as cannons that may knock the players out of the map.
As in regular brawlers, each of 24 warriors has a unique fighting style and technique. Apart from a wide array of moves such as jumps, attacks, and kicks the players have two more things at their disposal: special attacks and a character unique attack (so-called Awesome Attack). Other feature includes picking up special items to summon companions who can use their special attacks to help the player defeat their rival.
Game modes
PC, PS4 and etc. version offers several different game modes for one and more players. When playing the single player mode, the players can train and polish their skills in classic 1 on 1 duels or take part in the Legendary Legends tournament. When playing with others, the players can access modes such as Versus, Team Play, and Tag Team. Players can fight via LAN or online; the game support cross-platform gameplay with the only exception of the 3DS platform.
Technology
Among all the consoles supported by the game, the best looking visuals are offered by the PC, PlayStation 4, and Xbox One versions. Nonetheless, the graphics is vivid and colorful on any console. Furthermore, the game features excellent sound effects and lots of humor - the series' hallmark.
PEGI Rating
System requirements
Minimum: Dual Core 2.0 GHz, 1 GB RAM, graphic card 512 MB GeForce 7900/Radeon HD 4350 or better, 6 GB HDD, Windows XP(SP3)/Vista(SP1)/7
Recommended: Quad Core 2.5 GHz, 2 GB RAM, graphic card 1 GB GeForce 9800 or better, 6 GB HDD, Windows 7
Uses: PlayStation Network
Uses: PlayStation Network