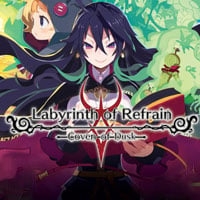 Labyrinth of Refrain: Coven of Dusk
Dungeon crawler, in which we play the animated book plundering the cursed underground. During the game in Labyrinth of Refrain: Coven of Dusk we go through an extensive maze, solve puzzles and avoid traps, as well as fight with encountered enemies.
RPG | FPP | fantasy | turn-based | dungeon-crawler | jRPG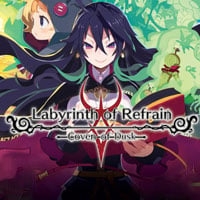 Labyrinth of Refrain: Coven of Dusk is a dungeon crawler developed by Nippon Ichi Software.
Story
Labyrinth of Refrain: Coven of Dusk takes us on a journey to the fantasy city of Refrain, under which a cursed labyrinth sprawls. The mysteries hidden in the underground dungeon draw the attention of a witch named Dronya, who arrives at the site with her animated book titled "Tractatus de Monstrum". In the course of the game, we play as this book, and our task is to plunder the dark tunnels.
Mechanics
In Labyrinth of Refrain: Coven of Dusk we observe the action from first-person perspective. The main element of the game is the exploration of the labyrinth, in which we are interfered by both numerous traps and enemies; what's more, from time to time we face the need to solve environmental puzzles. While we traverse the dungeons in real-time (in a "jumping" way, characteristic of the genre, able to turn by 90 degrees), combat takes place in turn-based mode.
The book we control is not defenseless, as it can use an army of puppet soldiers. The warriors we send to battle represent six classes with different weapons and special combat abilities. During the battles, juggling with skills of individual warriors is as important as chooseing the right tactics and formation.
It is worth remembering that the more treasures and artifacts we manage to accumulate during the subsequent escapades, the greater will be the threats awaiting us. Between the dungeon expeditions, we can visit the city, which is our base for operations. In Refrain, we create new soldiers and provide them with better armaments, as well as undertake missions commissioned by the inhabitants, and we can count on the help of the witch herself.
Technical aspects
Labyrinth of Refrain: Coven of Dusk adopts a manga style; when the combat starts, two-dimensional sprites of adversaries are superimposed on the three-dimensional environment.
Age Rating
age requirements: 12+
System requirements
Minimum:
Intel Core i3-6100 3.7 GHz
4 GB RAM
graphic card Intel HD 520 or better
20 GB HDD
Windows 7/8.1/10 64-bit
Recommended:
Intel Core i5-6500 3.2 GHz
8 GB RAM
graphic card 1 GB GeForce GTX 450 or better
20 GB HDD
Windows 7/8.1/10 64-bit