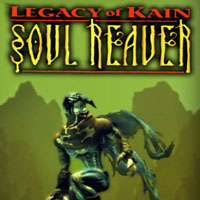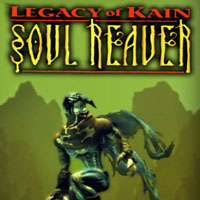 Legacy of Kain: Soul Reaver
Set in a dark world, an action adventure game with a view of TPP, in which the banished vampire Raziel realizes a plan of revenge on his former ruler. Successful production combines action sequences with logical challenges.
Adventure | TPP | fantasy | vampires | action adventure
Prepared by Crystal Dynamics, the second installment of the Legacy of Cain series. The title presents events taking place 1500 years after those of Blood Omen and belongs to the genre of action games with a TPP view.
Plot
The fantastic land of Nosgoth, which has been under vampire rule for centuries, is plunged into chaos. One day, one of the devoted commanders of powerful Cain, Raziel, exposes himself to his anger. As a result, he loses his beautiful wings and is thrown down to the lake of the dead. Unexpectedly brought back to life by the mighty Elder God, who sees him as a chance to restore order in the land, sets out on a mission to take revenge on Cain.
Mechanics
Soul Reaver is an action adventure game in which the camera presents the action from behind the characters. Seeking revenge, Raziel explores further areas of the fallen land, confronting hordes of enemies and solving further puzzles. Combat mechanics was taken from the hack'n'slash genre, focusing on the skillful character of the clashes and brutal exterminations. The main character can use his claws in combat, but also found weapons, such as long spears, torches or the title sword of Soul Reaver. The latter functions thanks to the souls that a warrior can collect from fallen enemies, while supplementing his life.
The authors have prepared a wide range of bestiary, consisting of people of different professions and vampires equipped with special abilities appropriate to their clan. The boss battles, during which the player has to develop a specific tactic to succeed, add some variety to the game. Successive victories broaden the hero's range of skills, opening up previously inaccessible paths for him.
Crystal Dynamics production actively uses the concept of inter-dimensional travel, building on its basis a large number of riddles. Depending on the world he is in, Raziel can use his bodily or spiritual form, which affects his abilities - e.g. only in material form can he switch levers and move objects, while as a ghost can penetrate the bars.
Technical aspects
This three-dimensional game is set in a very dark, gothic atmosphere, where the material sphere intertwines with other dimensions. The title is quite brutal, which makes it unsuitable for young players. The voice of the main character was lent to the actor Michael Bell, who repeatedly participated in the dubbing of game characters. He has participated in such projects as Icewind Dale, Ninja Gaiden and Doom 3.
Last updated on 03 December 2018
Game mode: single player
User score: 6,3 / 10 based on 987 votes.
Age restrictions Legacy of Kain: Soul Reaver: 16+
Legacy of Kain: Soul Reaver System requirements
Recommended:
Pentium II 266 MHz
32 MB RAM
graphic card