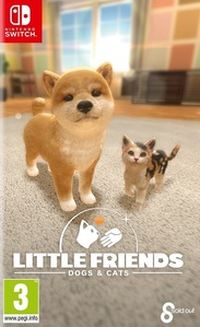 Little Friends: Dogs & Cats
Switch
A simulation game in which we take care of a selected dog or cat and take care of its needs. In Little Friends: Dogs & Cats we have to provide the fur with favourite delicacies, fill his free time with various activities, as well as dress him in various clothes and accessories.
Simulation | life Simulator | animals | dogs | cats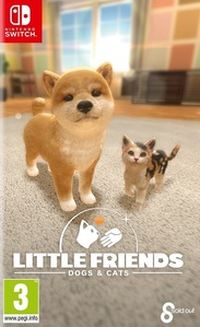 game language: English
game release date for Switch:
27May2019
Little Friends: Dogs & Cats is a simulation game in which our task is to take care of the eponymous dogs and cats. The game was developed by the Japanese studio Neilo.
Mechanics
Playing Little Friends: Dogs & Cats starts with the selection of an animal. The devs provided us with six breeds of dogs (such as labrador, German Shepherd, or French bulldog) and three breeds of cats. After that, we are taking care of the pet's needs; it is worth remembering that each animal has its own personality, and thus - favorite delicacies and games.
During the game, we have to provide our little companion with proper food, fill his free time with walks and various activities, such as playing fetch (the range of available toys grows with time), as well as take care of its appearance by choosing clothes and accessories from over six hundred available options. In this way, we gradually build a bond with the selected four-legged friend.
It should be noted that we can take care of up to three pets at the same time; on the other hand, we can always use the services of a hotel, which can store up to twelve pets.
Technical aspects
Little Friends: Dogs & Cats features high quality 3D visuals. Above all, we can like the richly animated animals with realistically recreated behavior.
PEGI Rating