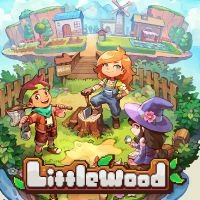 Littlewood is an adventure game with RPG elements, where we play as the hero who saved Littlewood from the hands of a tyrant, and now undertakes to rebuild what has been destroyed. The game was developed by the independent developer Sean Young, who launched a successful Kickstarter campaign.
Plot
In the game we play as the local hero, who saved the fictional world of Solemn from the evil mage's clutches. As a result, we lost our memory, but another task lies ahead of us. Reconstruction of the devastated town of Littlewood, whose inhabitants are the key to discovering our memories.
Mechanics
In the beginning Littlewood is nothing more than trunks, stones and weeds, so we have to start from scratch. We are forced to clean up the town with the available tools, observing our actions from top-down perspective. These become more effective when used, and our pace of work increases. Some of them will be unlocked only in the further stages of the game after reaching a certain milestone.
Next, we are given the opportunity to build various buildings that will make our town more attractive for its inhabitants and travelers, who, at our instigation, may want to settle there permanently. There will be no shortage of space for a library, a beauty salon, a café with donuts or a pet shop, where we can adopt one of the animals.
The area surrounding Littlewood is an ideal place to explore and discover new things. In front of us, there are enchanted forests, deep and dangerous caves, or other smaller towns surrounded by lakes. There's more to life than work so our hero has a wide range of other ways to spend his free time. Among other things, we are able to manage a farm and the plants planted on it, trips to caves in search of ores, fishing, cooking delicious dishes in the local tavern, catching worms, cutting down trees (wood is an essential material for constructing buildings and furniture), creating new objects from blueprints and collecting cards with monsters sealed after the wizard's death.
As we enjoy great fame, we cannot do without significant interactions with NPCs, especially now that we ourselves have an important goal in the form of restoring our memory. Good contact with a resident results in the possibility of unlocking new tools, buildings to be created, as well as access to the tasks commissioned by him/her, for the completion of which an award awaits us. We also increase the level of relationship with the NPC, which after reaching eight hearts can become our potential wedding candidate.
Technical aspects
Visually, Littlewood resembles games developed for SNES. The pixel world is maintained in strongly saturated colors.
Similar games:
Age Rating
age requirements: 12+
System requirements
Minimum:
Intel Pentium 4 2.0 GHz
1 GB RAM
graphic card 256 MB GeForce 8600 or better
1 GB HDD
Windows XP/Vista/7/8/8.1/10