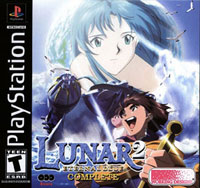 Lunar 2: Eternal Blue Complete
PS1
Improved version of the game Lunar: Eternal Blue. Production is a racial jRPG, in which the gameplay consists mainly in performing fictional tasks, exploration and numerous fights.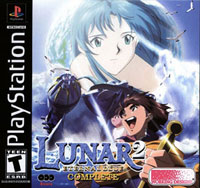 game language: English
game release date for PS1:
15December2000
Lunar 2: Eternal Blue Complete is an improved edition of Lunar 2: Eternal Blue, an RPG released on the Sega CD platform and a continuation of the very warmly received Lunar: The Silver Star. The game was developed by Game Arts and Japan Art Media, while the publisher Working Designs was responsible for distribution on foreign markets.
Story
The action of Lunar 2: Eternal Blue Complete takes place one thousand years after the events presented in Lunar: The Silver Star. This time the players come to follow the fate of Hiro, a young adventurer who meets a girl from distant lands, Lucia and decides to help her defeat a powerful creature that threatens the whole world. During the journey, the two characters are joined by a plethora of different allies.
Mechanics
Lunar 2: Eternal Blue Complete is a typical jRPG, so the gameplay consists mainly of exploring fantastic locations, turn-based combat with encountered opponents and performing story tasks. As they progress, party members gain experience and become better and better in their professions. Compared to the first installment of the series, the continuation places much more emphasis on storytelling, offering more cutscenes and an extra hour of dialogues.
Technical aspects
Graphics in Lunar 2: Eternal Blue Complete are two-dimensional and the action is observed from a bird's eye view. In Complete the devs improved the visuals with additional special effects, improved the sound quality and expanded the script. They also reduced the difficulty of the heavily criticized battle against one of the bosses and abandoned the system of game saves, in which saving our progress cost a certain number of experience points.
Similar games:
Age Rating
age requirements: 12+