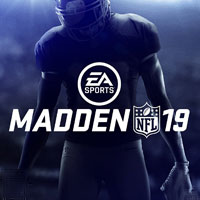 Game mode: single / multiplayer
Multiplayer mode: Internet / common screen
The next installment of the extremely popular (especially in the USA) series of american football simulators from EA Sports, the first part of which was released in 1997 (not counting here the great-grandfather, John Madden Football from 1989). Players yet again receive the opportunity to play matches and tournaments involving licensed teams. The production offers modes for both a single player and several people.
Mechanics
Madden NFL 19 is a comprehensive american football simulator. As befits the games of this series, players are given the opportunity to play matches, games and tournaments with the participation of licensed teams of the american NFL. Meetings are realistic and reminiscent of the struggles of real athletes. EA Sports made a few changes compared to the previous edition. Their introduction had two objectives: improving control over players and increasing immersion.
In the first case, a new system of movement comes in, thanks to which we can, among other things, perform sudden turns more efficiently. At the same time, Acceleration Burst mechanics was introduced – using it causes the player to accelerate as much as possible, but loses the ability to significantly influence the direction of the run without losing speed. The developers have also increased the uniqueness of individual players, so that they should behave in a noticeably different way on the pitch. In addition, thanks to the Mid-Air Collision system and numerous minor improvements, catching distant balls has been made more exciting.
The spectacularity and immersion of Madden NFL 19 games has been increased by adding new manoeuvres and special moves, such as One Cut (allowing faster Acceleration Burst to be fired at a key moment – provided it is properly felt), Strafe Burst (a defensive manoeuvre similar to and counter to One Cut) or Hit the Hole (making it easier to find space among other players when controlling a ball-bearing player).
Game modes
In Madden NFL 19 we can play alone or in the company of other people. We have career modes (within them we can lead a single player or the whole team), as well as a wide range of multiplayer games. We can also play again in the Madden Ultimate Team mode, but the developers have made significant improvements to the Power Up Players system by adding a new internal currency (called "training") and by simplifying the upgrades (we no longer have to go to sets and choose the paths – we can immediately see what improvements are available for the player). Developing your players is now easier than in the previous version of the cycle.
Technical aspects
Thanks to the use of the new version of the Frostbite engine and Real Players Motion technology, the title is characterized by a highly realistic and full of details graphic design. Models and animations of both players and stadiums present the highest world level. The games are accompanied by professional sports commentary.
PEGI Rating
System requirements
Minimum:
Intel Core i3-4350 3.6 GHz
8 GB RAM
graphic card 2 GB GeForce GTX 660 or better
40 GB HDD
Windows 7/8.1/10