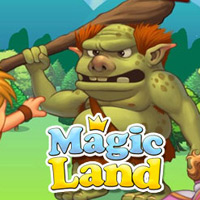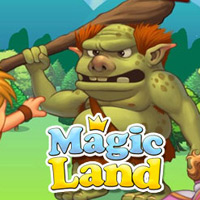 Magic Land
WWW
A social game combining elements known from other strategy and economic games enjoying great popularity on facebook. The evil dragon kidnapped the prince and the princess and ruined the title magical kingdom. Our task is to rebuild the state and save the heir to the throne.
Strategy | fantasy | Economic | casual | Facebook
Magic Land

Release Date WWW

15August2011
developer: Wooga publisher: Wooga Official website

game language: English
Magic Land is another production of Woog's studio specializing in social games available from the browser level. This time we are dealing with a game that brings together the most popular solutions of the genre, set in fantasy climates. The magical kingdom is attacked by a powerful dragon. The beast kidnaps both the prince and his chosen one. As if that wasn't enough, most of the buildings around the castle were in ruins. Our shoulders are responsible for restoring the area to its former glory.
At the beginning of the game we create our own heroine or heroine. Most of the time we spend on missions involving the acquisition of the right amount of resources or the construction of specific buildings. The economic aspect plays a very important role here. From farms we obtain grain, which then goes to the mill and bakery, where it is processed into bread. The production of arms also requires the efficient functioning of the entire industry.
As befits the style of fantasy, Magic Land could not miss the hostile creatures harassing our lands. As one of our main tasks is to ensure the well-being and security of our citizens, we must face up to the monsters. In return, experience points are awarded to us. Along with the promotion we receive, among other things, access to new items in the built-in store. The game also uses a classic micropayment model based on crystals bought for real money.
Social features include giving gifts and visiting friends' kingdoms.
The graphic design of Magic Land is very colorful and addressed mainly to younger players. All characters are shown in a humorous, slightly caricatured way - even monsters arouse sympathy.
Please let us know if you have any comments or suggestions regarding this description.
Game mode: multiplayer Multiplayer mode: Internet
Age restrictions Magic Land: Good for all ages.