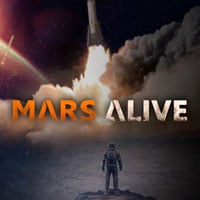 game language: English
game release date for PS4:
18June2019
Mars Alive is a survival game, whose main source of inspiration was a film titled The Martian. The game was developed by the Chinese studio Future Tech and funded, among other things, thanks to a successful crowdfunding campaign.
Plot
Mars Alive takes place in 2045. As part of the Monolith III project, a group of eighteen people was sent to Mars to join the colonizers already present there. When their base was attacked by terrorists, only two people managed to survive. One of them is the main character named John. The protagonist fights for survival, trying to discover the truth about this tragedy and find a way back to Earth.
Mechanics
In Mars Alive, the action was shown from first-person perspective. In the game we are offered a vast world, with day and night cycle and changing weather conditions. The map is traversed on a special vehicle called Mars Manned Rover; the planet's secrets can also be learned by using a remote-controlled rover (Mars Exploration Rover), and short distances can also be covered on foot. Although exploration is associated with risk, it is important because the amount of information we collect determines the way in which the plot ends.
One of the main elements of the game is to manage oxygen, food, water, and temperature; if any of the associated indicators falls below a critical level, John's life will be endangered. For this reason, we should gradually venture deeper and deeper into the Martian wilderness - in the base, or rather what was left of it, we will find only small amounts of resources, for example in the form of containers with oxygen or food. In addition, developers have prepared an advanced plant cultivation system that needs to be maintained at the right temperature and hydration. This is complemented by the ability to create useful objects with a 3D printer.
Technical aspects
Mars Alive requires VR sets to work. In addition, it is worth noting, that in order to present life on Mars in the most realistic way possible, the devs of the game visited the Martian Village in China, and in preparing models of the vehicle and rover, they used the designs of their real-life counterparts.
Similar games:
PEGI Rating