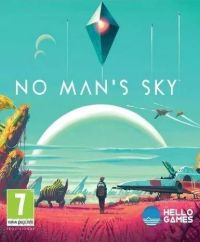 Game mode: single / multiplayer
Multiplayer mode: Internet, players: 1-32
No Manís Sky released for PC, PS4 and XONE is a sandbox action game with first person perspective set in science-fiction world. It was created by four people from studio Hello Games Ė creators of popular arcade games from Joe Danger series.
The game takes place in a far future in mysterious part of the space. No Manís Sky on PC, PS4 and XONE offers us total freedom and puts no limits in matter of choosing our virtual career. The heart of the game is system of procedural generation which is responsible for creating not only animals and plants on single planets but also for entire star systems and galaxies. No Manís Sky focuses on the exploration. We are travelling across the universe in our spaceship, controlled like in space simulators with view from the cockpit, while exploration and combat on the planetsí surfaces look like in first person shooters. The action takes place not only on land and in space but also under water and in the air. During the exploration we are discovering remnants of alien races, gathering resources and upgrading our equipment, among other things.
Each planet has its own fauna, flora and even composition of atmosphere. The closer we get to the core of the universe, the more dangerous planets become (they are more often inhabited by deadly predators and have toxic atmosphere). Generated worlds are saved on the server so they can be explored later by other players. However, despite having persistent online world, No Manís Sky focuses on sinlge player experience Ė due to monstrual size of the world (consisted of millions of planets) meetings between players are very rare.
Similar games:
PEGI Rating
System requirements
Minimum:
Intel Core I3 2.9 GHz
8 GB RAM
graphic card 1536 MB GeForce GTX 480 or better
Windows 7