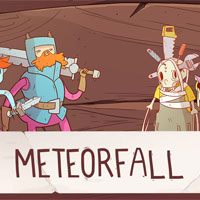 Meteorfall: Journey released on AND and iOS is a card game with roguelike elements. Set in an amusing, fantastic world, the game gives the player an opportunity to choose their hero and face the dangerous Uberlich. Collecting cards representing equipment and abilities is the game's backbone, but a full deck is not necessary to start playing. The production is created by Slothwerks.
Plot
Meteorfall: Journey is set in a world threatened by the evil, undead Uberlich – the most epic final boss in the history.
Mechanics
Card game aspects are the most important in this title. The production lets you choose the hero belonging to one of several classes, and then fight various monsters (including rare bosses) with the use of the attack and item cards. The combat system is quite simple – you draw a card and decide if you want to play with it or throw it away and wait. By holding, you regenerate stamina necessary for performing manoeuvres. There are dozens of better cards that you may win after each battle.
The production by Slothwerks also offers some roguelike elements. Most importantly, permadeath – once you die, you have to start from the beginning. In such case, you are offered some consolation in the form of crystals with which you can buy some cards that make another start easier. Importantly, the world is generated randomly, so each new beginning means different locations, items, and enemies. Because of this, you should not get attached to anything, and adapt quickly.
Game modes
Meteorfall: Journey is a single-player title.
Technical aspects
The graphics in Meteorfall: Journey put out on AND and iOS are based on 2D, hand-drawn maps and cards. They utilise a very characteristic style that brings to mind online comics.
Similar games:
Age Rating
age requirements: 12+