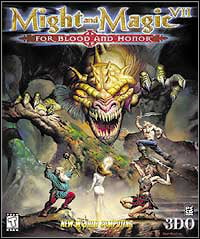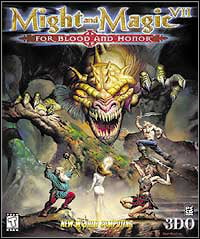 Might and Magic VII: For Blood and Honor
PC
The seventh installment in one of the most popular first-person RPGs by New World Computing. Might and Magic VII: For Blood and Honor takes us to the world of Erathia, which slowly regains its balance.
RPG | FPP | fantasy | Might & Magic | classic RPG
Might and Magic VII: For Blood and Honor

Release Date PC

09June1999
developer: New World Computing publisher: 3DO Company Official website

game language: English
After the successful reanimation of the Might and Magic series, 3DO gives gamers another installment of the epic RPG series. For Blood and Honor for PC was developed on the basis of its predecessor and offers similar graphics, gameplay mechanics, and character development system. Plot-wise, the game continues the storylines of the forerunner, expanding the events known from another famous series by New World Computing: Heroes of Might and Magic.
Plot
The sun slowly rises above the mysterious, war-torn land. However, not only the natives of Erathia — humans, elves, and dwarves — arise, hordes of wild beasts, monsters, and giant dragons do, as well. It quickly turns out that multiple different races cannot coexist peacefully, and the increasing tensions between humans and elves will soon become intolerable. The guild of necromancers tries to use the situation in Erathia to its wicked ends. It is time to lead a party of four daredevils to taste adventure yet again and to restore balance to the kingdom.
Apart from the main storyline, Might and Magic VII offers 18 side quests in which we can, among other things, play Arcomage, an original card game designed by 3DO. The plot itself is multithreaded and forces us to make choices that have an impact on the further course of the story. Depending on how things unfold, we will see one of two alternative endings.
Mechanics
The number of character classes was also increased, and so now we can select a knight, druid, mage, paladin, priest, archer, hunter, monk, or thief. During our journey, we will have to face nearly thirty different kinds of monsters and talk to many of over 500 non-player characters.
Technical aspects
The same graphics engine as its predecessor powers Might and Magic VII: For Blood and Honor for PC. However, it supported 3D accelerators, which visibly increased the game's visual quality.
Last updated on 22 August 2013
Game mode: single player
Media type: 2 CD
User score: 8,5 / 10 based on 1383 votes.
Age restrictions Might and Magic VII: For Blood and Honor: 12+
Might and Magic VII: For Blood and Honor System requirements
Recommended:
Pentium 133
32 MB RAM
graphic card 1 MB
375 MB HDD
Windows 95/98/NT