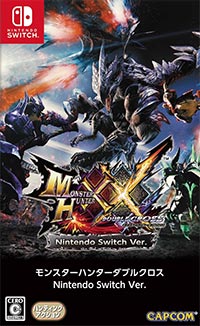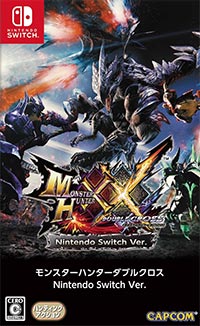 Monster Hunter Generations Ultimate
Switch
Monster Hunter XX
Another installment in the incredibly popular series of arcade action games enriched with elements of role-playing; the franchise emerged in 2004 on the PlayStation 2 console.
RPG | TPP | fantasy | action RPG | Nintendo exclusive titles
Monster Hunter Generations Ultimate

Release Date Switch

28August2018
developer: Capcom publisher: Capcom Official website

game language: English
Monster Hunter XX for SWITCH is another installment in an incredibly popular series of arcade action games seasons with elements of role-playing; the franchise emerged in 2004, on the PlayStation 2 console. As usual, Monster Hunter XX was developed by the Japanese company called Capcom. Monster Hunter XX is not an entirely new part of the franchise, as it is only a significantly improved and extended version of Monster Hunter Generations (Monster Hunter X is the original, Japanese title), which came out in 2015 for Nintendo 3DS.
Mechanics
Since Monster Hunter XX is only an extended version of an already existing installment, the fans cannot expect to experience revolutionary changes here, or novelties that affect the gameplay formula in a large way. Similar to the predecessing games, Monster Hunter XX takes the player to a fantasy world inhabited by extraordinary creatures and beasts – the player hunts them, completing subsequent missions. The game is played from a third-person view and the player controls a character that represents one of several available classes, differing in the weapons they use, and both defensive and offensive strategies. During the adventure, the player traverses numerous 3D locations, where – apart from fighting monsters – they gather different resources, such as various kinds of ore – those combined with claws or skins of the player's victims, can be turned into new types of more durable armors and other kinds of equipment useful in further encounters.
Compared with Monster Hunter Generations, Monster Hunter XX introduces a new base of operations into the game, which is a ship this time, named Ryuushiki. Aboard the ship, one will find shops and an infrastructure that is required to continue the game. The creators implemented a series of completely new locations as well, apart from new monsters to be taken out – for example, two powerful creatures – Ouma Diablos and Balfark; killing them ends the player's adventure. Changes were also introduced into the combat system, as the creators included subsequent kinds and styles of attacking, extending the characters' capabilities.
Game modes
A multiplayer mode constitutes one of the key advantages of Monster Hunter. The game can be experienced together with up to three other players, both in local mode and online.
Technical aspects
Monster Hunter XX for SWITCH offers completely refreshed visuals. Texture resolution was improved and the number of environmental details was increased. Also, 3D character and monster models were revamped. The camera works in a significantly different way here, and controlling it is easier, thanks to the console's two analog sticks. Monster Hunter XX gives an opportunity to transfer one's original save files from Monster Hunter Generations.
Game mode: single / multiplayer Multiplayer mode: Internet
Expectations: 8.8 / 10 based on 3 votes.
PEGI rating Monster Hunter Generations Ultimate