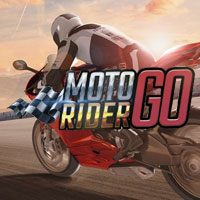 Moto Rider GO: Highway Traffic
Endless runner production, in which the player takes on the role of a motorcyclist - his main task is to drive on the selected bike as long as possible. Production offers special challenges and network scoreboards where you can boast of your achievements.
Racing | play for free | motorbike | Polish | auto-runner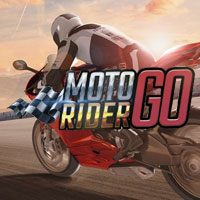 Moto Rider GO: Highway Traffic is the work of the T-Bull team, specializing in the creation of low and medium-budget productions intended primarily for mobile devices. Unlike most of the band's other works, the title described here appeared not only on smartphones and tablets, but also on personal computers - regardless of the platform, it is distributed in a free-to-play model.
Mechanics
Moto Rider GO: Highway Traffic represents a species of so-called endless runners. Players ride one of the three motorcycles and mk in front of them, trying to drive as much distance as possible, bypassing other road users. In return for further successes, they earn money to buy modifications to their bikes - they improve their maximum speed and shorten their braking distance. Moreover, there is nothing to prevent them from getting extra lives, thanks to which after a crash they can continue driving. All this is complemented by the possibility of adjusting the appearance of a two-wheeled steed to individual preferences by changing the colour or various stickers.
We have at our disposal the developers of the popular "racer", chopper and tourist motorcycle - it is at their helm that we cross roads located in the suburbs, in the centre of the desert, in an area covered with a thick layer of snow, or finally in a metropolis illuminated by the glow of neon lights and lanterns. Individual machines have been differentiated not only in terms of handling, but also in terms of strengths and weaknesses - while one can boast more lives available at the start, by riding another we will guarantee special point bonuses, awarded after accelerating to maximum speed.
In addition to the standard competition, in which our task is to drive as far as possible, a number of challenges await completion, and you can boast of your achievements on the online scoreboards. It is worth noting, however, that in order to beat one of the records, the player has to risk, overtaking cars with the thickness of paint, or rushing straight to the vehicle going from the opposite direction and bouncing at the last moment.
Technical issues
Three-dimensional graphic design published on the PC platform, AND, etc. Moto Rider GO: Highway Traffic presents an average level of workmanship, although the strengths of the visual sphere are the detailed models of motorcycles.
Please let us know if you have any comments or suggestions regarding this description.
Similar games:
Age Rating
age requirements: everyone