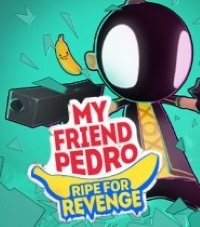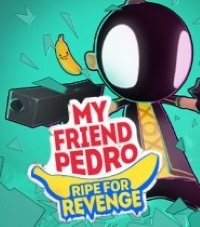 My Friend Pedro: Ripe for Revenge
My Friend Pedro: Ripe for Revenge is a mobile spin-off of the well-remembered 2019 indie game from Deadtoast studio. This time we have to rescue the abducted family of the titular banana, defeating more enemies in acrobatic and bloody clashes.
Action | play for free | platform | indie games | 2.5 D | side-scroll | shooters
My Friend Pedro: Ripe for Revenge is an platform action game that is a mobile version of Deadtoast studio's crazy debut project from 2019. The game was released as a free-to-play production by Devolver Digital, which also published the original My Friend Pedro on desktop platforms.
Plot
In Ripe for Revenge, we once again take on the role of the masked and small-talking protagonist led by Pedro, who is... a banana. What's more, he's a banana husband and father whose family has been kidnapped. It is our responsibility to rescue Pedro's family (and murder anyone who stands in our way).
Mechanics
The overall gameplay in Ripe for Revenge doesn't differ from the original. Here we also wander through diverse, usually 2D, side-scrolled levels and eliminate numerous enemies. In the fight we use mainly two pistols, but on the maps (and in the hands of enemies) there are also more powerful weapons such as shotguns. From time to time we also steer a motorcycle or ride a board, but even then the action doesn't slow down and every now and then we send another wicked creatures to the other world. It all takes place alongside the hero's acrobatic stunts - even riding a rocket that's about to explode is just a modest interlude in the game.
The main difference in comparison to the original My Friend Pedro is the adaptation of the gameplay for touchscreen control on mobile devices. This also translated into more frequent use of the bullet time effect - slowing down time gives players more time to perform gestures responsible for shooting or parkour stunts.
Game modes
My Friend Pedro: Ripe for Revenge is divided into many levels, which we can pass repeatedly to gain more points. Besides, the developers have prepared a demanding Blood Rush mode for players looking for a real challenge.
Technical aspects and other
Compared to the main game, My Friend Pedro: Ripe for Revenge uses slightly more cartoonish 2.5D graphics, with a bit more out of shape and finer hero and enemies than in the original.
In keeping with the convention of many mobile games, the title is only partially free. You can check out the first few levels without paying - subsequent levels require a single micropayment.
Game mode: single player
App size:
Age restrictions My Friend Pedro: Ripe for Revenge: Good for all ages.