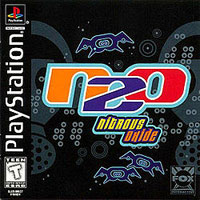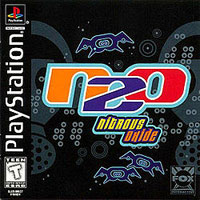 N2O: Nitrous Oxide
PS1
Maintained in a specific, slightly psychedelic style 3D arcade shooting, in which players can only move left or right. The goal is to conquer successive tunnels, eliminating enemies encountered on the way and achieving the best score possible.
N2O: Nitrous Oxide

Release Date PS1

30June1998
developer: Gremlin Interactive publisher: Gremlin Interactive

game language: English
N2O: Nitrous Oxide is an arcade space shooter developed by Gremlin Interactive, in which players sit at the helm of a ship rushing through a long tunnel. The game is distinguished by unique visuals and soundtrack by The Crystal Method.
Story
The world of the future. An evil race intends to attack the Earth and destroy human civilization. For this purpose, it has created a special tunnel on the planet Neptune, using advanced genetic engineering, in which a breed of super-warriors is to be built. The task of the players is to go to the spot and use a nitrous oxide-powered vehicle called Tunnel Runner to destroy the enemies and save the Blue Planet.
Mechanics
Released on PS1, the game uses simple rules. The controls of our ship, constantly flying deep into the screen in a strange tunnel, are limited to only two directions - turning left and right. Players can, therefore, maneuver the vehicle in a limited way, trying to avoid obstacles, eliminate enemies and collect bonuses. All this translates into high production dynamics, in which dexterity, reflexes and the ability to make quick decisions are the most important factors. At the end of each stage, the player's efforts are evaluated and recorded as a score. The result is influenced by the number of bonuses and eliminated opponents, i.e. all kinds of insects, collected during the flight.
The devs tried to add some variety to the game by adding boss battles at the end of each stage, as well as bonus map symbols discovered during the flight, on which the player must eliminate indicated targets and avoid traps. With each hit, the speed of the vehicle increases, leading to an increase in difficulty.
Technical aspects
One of the main elements distinguishing the game is the soundtrack composed by The Crystal Method duo. The players' struggles are accompanied by songs from the band's debut album, which won a platinum album in the United States. N20 cannot be confused with any other title due to its psychedelic, colorful, brightly colored, pulsating visuals.
Game mode: single player
Age restrictions N2O: Nitrous Oxide: 12+