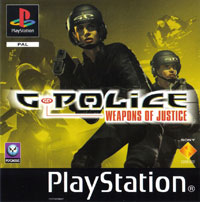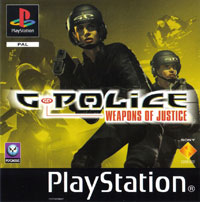 G-Police: Weapons of Justice
PS1
Exclusively released on PlayStation 1, this is a three-dimensional action game in which console owners embody the remote control of futuristic vehicles and guard order in a cosmic colony.
Action | science fiction | Space | Police | aircraft
G-Police: Weapons of Justice

Release Date PS1

31August1999
Developed by Psygnosis, G-Police: Weapons of Justice is a three-dimensional action game in which players perform various missions at the helm of futuristic combat vehicles. The title is a continuation of a hit from 1997 and tells the story of the policeman Slater, bringing a few novelties to the proven mechanics.
Story
The world of the future. One of Jupiter's moons, Callisto, was colonized by people. Pilot Jeff Slater is now a G-Police veteran. The unit has more and more problems with aggressive members of the local gang. The commandos from United Earth Marine Corps are sent in to help. Initially, the cooperation between the two groups was excellent. Unexpectedly, however, the military commanded by Commander Grice turns against the G-Police. Slater and his colleagues must face them and stop the traitors from implementing a plan that threatens not only the lives of the colonists but also the inhabitants of the Earth. The story presented in the game is a continuation of the story presented in the first part of the game.
Mechanics
As in the original, in G-Police: Weapons of Justice the players take control of combat machines. The camera can show the action from several perspectives, both from the cockpit and from behind the vehicle. The devs have prepared thirty different missions, during which we have to patrol selected areas, destroy designated targets, protect convoys or transport cargo. In some of them, we are accompanied by companions, who can be given simple orders.
The basic element that distinguishes the sequel from its predecessor is the number of available vehicles. In addition to the original futuristic combat helicopters already known to the fans, the players can now also fight their enemies at the controls of an armed car or a two-leg robot. Each machine has dedicated missions and armament. In total, the devs from Psygnosis prepared as many as thirty-five types of weapons, including several types of rockets, bombs, guns and plasma cannons. In addition to the main missions, the players can also perform side quests. Successful completion of each of them unlocks various bonuses, such as game artwork.
Technical aspects
G-Police: Weapons of Justice is kept in a futuristic style, which can evoke associations with popular science-fiction films, such as Blade Runner or the Dark City. Background and the atmosphere of the game are built by spectacular cut-scenes.
Game mode: single player
Age restrictions G-Police: Weapons of Justice: 12+