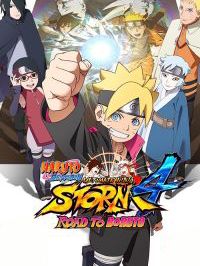 Game mode: single / multiplayer
Multiplayer mode: Internet / common screen, players: 1-8
Naruto Shippuden: Ultimate Ninja Storm 4: Road to Boruto is the next installment in a fighting series based on cult manga and anime Naruto. Although it was originally an add-on, it is an extended version of the basic Naruto Shippuden: Ultimate Ninja Storm 4 game containing Naruto to Boruto DLC, three additional scenarios (Gaara's Tale Extra Scenario Pack, Shikamaru's Tale Extra Scenario Pack and Sound Four Extra Playable Character's Pack) and bonus content previously available in pre-sale.
Plot
The action of the basic version of the game takes place during the Fourth Shinobi World War, where the Allied Shinobi Forces faces the leader of the despicable Akatsuki organization - Obito Uchiha aka Tobi. The expansion Naruto to Boruto takes us a dozen or so years to the future, where by playing the son of Naruto (title Boruto), we start training ninja in the Hidden Leaf Village. However, the idyllic life does not last long, because it turns out that the world is in danger again and the new ninja generation is ready to face it.
Mechanics
The core of the game is not too different from what we learned in the previous installments of the series. One-on-one battles take place in vast three-dimensional arenas. There was also a typical wall run, which allows fighting both on the ground and on the walls.
In the game we have at our disposal well-known and popular heroes - Naruto, Jiraiya, Sasuke, Tsunade, Gaara, Hinata, Rock Lee and many others in the basic version and additional characters from Boruto manga, such as Momoshiki and Kinshiki. Each character has a unique secret technique unlocked by means of appropriate key combinations. There was also an element of team attacks, which not only are spectacular, but also deal considerable damage. But to use them, you need to find out what combination of two heroes will give you the opportunity to see them attack together. It is worth noting that during the fight we control only one of them, and the choice of the other affects only this technique.
Together with the expansion we get the possibility to adjust the appearance of our characters by putting on costumes typical for the period in which Boruto takes place. These will only be available to eleven playable heroes. The DLC is also expanding our exploration area in the Hidden Leaf Village.
Game modes
The game is divided into a single player story campaign, but we can also play in multiplayer modes, whether with friends on the couch or online, where there is a possibility to take part in ranking fights.
Technical aspects
Naruto Shippuden's Ultimate Ninja Storm 4: Road to Boruto graphics are reminiscent of what we know from anime, but with improved technology and capabilities, it has outperformed its original. It is also nice to see that the damage to the clothes of the characters caused by the injuries is visible.
PEGI Rating