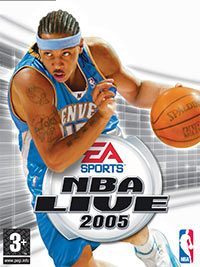 Game mode: single / multiplayer
Key features:
# EA SPORTS™ FREESTYLE AIR: Become an offensive All-Star with new moves including all-new jams, jaw-dropping alley-oops, and adjustable mid-air lay-ups and dunks. New user-controlled put-back and tip-in technologies reward players who box out, wipe the glass, and go back up for a quick bucket. On defense, own the paint by taking more control over shot blocking.
# NBA ALL-STAR WEEKEND:From slam-dunk competitions where you take complete control of every dunk to 3-point shootouts against the clutch shooters in the league, prove yourself in each electrifying All-Star event. You can even take on All-Stars around the country in the world's greatest online tournament.
# NEW GRAPHICS ENGINE: With increased resolution of player faces, jerseys, shorts, skins, and tattoos, NBA LIVE 2005 raises the bar and offers the most visually immersive NBA game to date.
# EA SPORTS™ FREESTYLE CONTROL:Hit the court runnin' with a collection of brand new moves that puts even more control in your hands. With further player differentiation and more signature moves, your game has been personalized.
# 10-MAN FREESTYLE:The innovative 10-man motion-capture technology yields authentic plant-and-cut animations, backdoor cut scenarios, new in-air collisions and box-out scenarios, and off-ball animations that offer new spacing and eliminate on-court crowding.
# COMPREHENSIVE DYNASTY MODE™:Become the architect of your own unstoppable dynasty and watch your franchise flourish for up to 25 seasons. Jump into games with simulation intervention, enjoy all-new free agency logic that puts your contract negotiating and salary cap managerial skills to the test, and use the customizable PDA to stay up to date with important league news, team information, special announcements and more.
# 'BALL' COAST-TO-COAST*:Go Freestyle against opponents anywhere in North America. Meet, greet, chat, set up tournaments, download roster updates, and play head-to-head from the online lobby and see if you can maintain your place as the best gamer -- anywhere, anytime.
# THE NBA'S TOP ANNOUNCING TEAM:The voice of NBA basketball, Marv Albert, teams with on-air TV partner Mike Fratello -- these two veterans dish out the most authentic commentary available.
*Internet connection required. See full product packaging for details.
Similar games:
PEGI Rating
System requirements
PC / Windows
Recommended: Pentium III 700 MHz, 256MB RAM, graphic card 32MB, 1.8 GB HDD
Sony PlayStation 2
Uses: Multitap