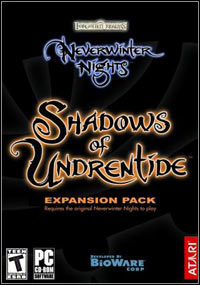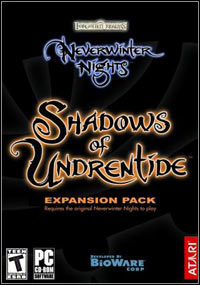 Neverwinter Nights: Shadows of Undrentide
PC
An official expansion pack for the 2002 role-playing TPP game Neverwinter Nights, developed by BioWare Corporation, the creators of the core game, in cooperation with FloodGate.
This is Neverwinter Nights expansion pack.
RPG | TPP | fantasy | Dungeons & Dragons | classic RPG
Neverwinter Nights: Shadows of Undrentide

Release Date PC

18June2003
developer: BioWare publisher: Atari / Infogrames Official website

game language: English
Shadows of Undrentide is the first expansion pack for Neverwinter Nights developed by BioWare and newly established FloodGate employing mostly former developers of Looking Glass Studios. The add-on is meant for low- and mid-level characters. It offers a new campaign for about 30-40 hours of gameplay, while the developers ensure that their priority was rich and interesting storyline. Numerous complaints of the player community about the original campaign were taken into account in the production process. The story revolves around the city of Undrentide. In the past, it was one of the flying cities of the Netheril race. They were wizards wielding powerful magic and it was the ambition connected to it that drove them to their doom. It has been centuries since the flying cities crashed down, but their ruins are home to magic and, naturally, all manners of beasts up to this day.
Shadows of Undrentide was designed to begin a new adventure with an undeveloped character, but there is a possibility of playing the second and third chapter with a developed, mid-level character from Neverwinter Nights. We still may have only one henchman to help us (unlike Baldur's Gate, for instance), but the players have bigger influence over his or her actions than in the original Neverwinter Nights. The maximum level cap is 20. There are new spells and skills added to the game, as well as the first craft skill. Moreover, the add-on contains new items, weapons, armors and magical artifacts. There are also new monsters to test out these things on.
The toolset for creating your own worlds and adventures was enriched with the two new sets of landscapes and a number of tools that expand the possibilities of new module creation.
Game mode: single / multiplayer Multiplayer mode: Internet Player counter: 1-64
Media type: 2 CD
User score: 8,4 / 10 based on 569 votes.
PEGI rating Neverwinter Nights: Shadows of Undrentide
Neverwinter Nights: Shadows of Undrentide System requirements
Recommended:
Pentium III 1 GHz
256MB RAM
32 MB graphic card
1.2 GB HDD