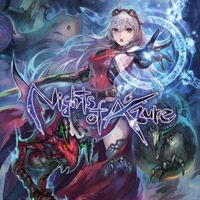 Nights of Azure
An action RPG set in unique fantasy world, developed by Japanese studio Gust, know from the Atelier and Ar tonelico series. Nights of Azure takes us to an isolated island kingdom, in which people must face demonic creatures that roam at night.
RPG | TPP | fantasy | hack'and'slash | action RPG | jRPG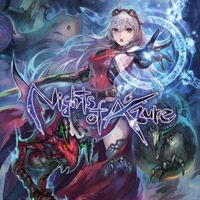 Nights of Azure is an action RPG set in the original fantasy world. Its creation is the responsibility of the Japanese studio Gust, known mainly for its Atelier and Ar tonelico series, which debuted on PlayStation 2. Since 2014, the studio has been part of Koei Tecmo, one of the largest game developers in the Land of the Rising Sun. Nights of Azure is the second, after Ar Nosurge, original and significant project of the team, which is not part of any of its main brands, as well as the first action game in the developer's catalogue.
Story
Action of Nights of Azure takes place in an isolated island kingdom called Ruswal. Its inhabitants have to deal with a curse that makes demonic creatures appear on the streets of the capital after dark, subject to the terrifying Nightlord. Few are able to emerge victoriously from a meeting with the monsters. One such person, however, is Arnice, the game's protagonist, who possesses demonic powers herself. Her task is to protect priestess Lilysse, who, if you believe the legends, will sacrifice her life to destroy the curse of Ruswal. Over time, this mission becomes more and more difficult for both heroines. Arnice is slowly forced to reject her humanity and Lilysse has to make peace with her imminent death.
Mechanics
Nights of Azure is an action RPG, using a formula known from many hack and slash games. The gameplay is presented from TPP, and players can freely operate the camera, traveling through subsequent three-dimensional locations. In the course of the game, Arnice can take on a number of main and side quests, consisting mainly of elimination of subsequent creatures in different corners of Ruswal. Our starting point is the Ende hotel, where we can talk to various NPCs, choose the skills we use, and advance to the next level of experience.
During combat, Arnice hcan use weapon attacks, special abilities, as well as alternative forms of combat, which change her appearance and increase the strength of the attacks. The heroine doesn't have to fight with enemies alone - she can be accompanied by Servans, demonic helpers. We acquire them by defeating various types of demons. Depending on the type, Servans can support and heal the protagonist or take on a purely offensive role.
Technical aspects
Nights of Azure does not offer any graphical fireworks, but provides fast gameplay without performance degradation. However, the three-dimensional models of the characters deserve attention, being made with great attention to detail. The game also offers a pleasant soundtrack, which is a characteristic feature of virtually all productions of Gust.
Similar games:
PEGI Rating
System requirements
Minimum:
Intel Core 5 2.6 GHz
4 GB RAM
graphic card 1 GB GeForce GTX 560 or better
6 GB HDD
Windows 7/8.1/10
Recommended:
Intel Core i7 3.4 GHz
8 GB RAM
graphic card 2 GB GeForce GTX 960 or better
6 GB HDD
Windows 7/8.1/10