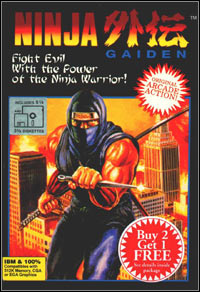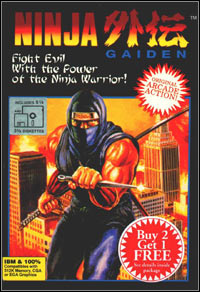 Ninja Gaiden (1991)
PC
A PC conversion of Tecmo's popular side-scrolling action game that debuted in 1988 on arcade coin-op machines. In the game we play as a young warrior Ryu Hayabusa from the Dragon Ninja clan who comes to the United States to avenge the death of his murdered father.
Action | TPP | hack'and'slash | ninja
Ninja Gaiden (1991)

Release Date PC

25February1991
developer: Koei Tecmo publisher: Hi-Tech Expressions

game language: English
Ryu Hayabusa, a young warrior from the Dragon Ninja clan, comes to the United States to avenge the murder of his father. The latter, just before his death, manages to send his son a message without delay, in which he is informed about a mysterious and extremely powerful sword, which is currently in the enemy's possession. Ryu must of course recover him if he is to complete his difficult mission.
Games Ninja Gaiden debuted for the first time on coin-op machines in 1988. Several months later the company Tecmo prepared several modifications of the title for popular hardware platforms, including, of course, the PC. Unfortunately, despite the manufacturer's sincere willingness, it is difficult to consider this product as particularly successful. Compared to other editions, this one looks very poor - of course, we are talking about the audio-visual setting, although the dynamics of the game has suffered a lot in this conversion.
In total, there are six large stages to overcome, divided into several smaller parts. Each level corresponds to one of the American cities and is literally filled to the brim with all sorts of opponents. Ryu uses the strength of his own fists to fight the enemy, but he can also take advantage of several unique special blows. During the game you should be careful about the state of energy of our hero, because we can quickly lose our lives, and thus squander what we have done so far. Certainly Ninja Gaiden is not an easy product and requires a lot of practice to efficiently eliminate opponents during the game.
Please let us know if you have any comments or suggestions regarding this description.
Game mode: single player
User score: 6,6 / 10 based on 157 votes.
Age restrictions Ninja Gaiden (1991): 12+