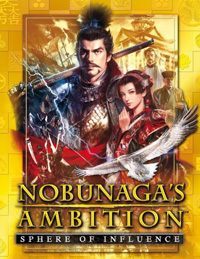 Nobunaga's Ambition: Sphere of Influence is the fourteenth edition of one of the longest Japanese strategic series started in 1983. KOEI (later Tecmo KOEI) has been responsible for the development of the series for more than 30 years. The title was originally released only in Japan as Nobunaga no Yabou: Souzou (Nobunaga's Ambition: Creation). The rest of the world could play it almost two years later.
Plot
The action of Nobunaga's Ambition: Sphere of Influence is set in the feudal Japan. Players take on the role of a feudal lord of the Sengoku era (XV-XVI century), who fights in the name of the great idea of unification of the war-divided country under one rule, becoming at the same time the first Japanese Shogun. Depending on your preferences, you can choose to play as a historical character, or create it yourself.
Mechanics
The mechanics of the game are based on three basic pillars: construction, diplomacy and war. As for the construction, we have to develop our clan's headquarters, build roads and farms that will ensure its economic growth and give us the option to trade with our neighbors. In the sphere of diplomacy, our task is to maintain diplomatic relations, send spies, form alliances and develop power through marriages between noble family members. The last pillar is warfare - we have to prepare properly by training soldiers and promoting officers, fortifying our lines of defense and developing strategic plans for further attacks.
Technical aspects
Nobunaga's Ambition: Sphere of Influence features decent graphics, rarely seen in "grand strategy" games. Particular recognition should also be given to the care with which the historical realities of the epoch have been recreated and the huge range of strategic opportunities that we can use to achieve the ultimate goal.
Age Rating
age requirements: 16+
System requirements
Sony PlayStation 3
Uses: PlayStation Network
Sony PlayStation 4
Uses: PlayStation Network
PlayStation Vita
Uses: PlayStation Network