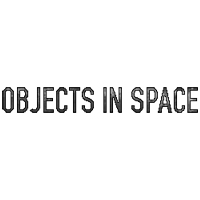 game language: English
game release date for PC:
01March2019
Objects in Space is a space simulator developed exclusively for PC by Flat Earth Games.
Plot
The action of the game is set in a distant future, in which humanity has colonized many planetary systems. During the game, a player assumes the role of a space merchant, who traverses dangerous regions of the galaxy supplying various goods to the highest bidder.
Mechanics
Objects in Space offers a sandbox-like approach towards the simulator genre, thus it is up to the player to choose the assignments they want to complete. The players' objective is to earn a lot of money – since their vessel is designed for moving merchandise, a direct confrontation with an opponent might cause the player to lose their ship and the crew. The key aspect of the gameplay is to use the stealth approach in order to avoid confrontation with large enemy groups. Although, even when confronting single foes, one has to hide own position and wait for a chance to execute a surprise attack.
During the game, players spend most of the time in the ship's cockpit paying attention to all the systems' readings, operating control panels, as well as monitoring system reports and the radar. Objects in Space does not offer any spectacular battle sequences. More often than not, a player will not even see the enemy ship when fighting long-distance battles, and he has to trust mostly his ship's sensors.
All of the aforementioned elements make it crucial for a player to hide their vessel from enemy sensors. This can be accomplished by, for instance, hiding in an asteroid belt or in a nebula. Moreover, ships handling systems are governed by a realistic physics engine – as a result, one can get enough velocity to set a course and then continue the journey with the engines shut down, which makes it more difficult for the enemies to detect the ship.
The active spacecraft systems might also attract some unwanted attention forcing players to make difficult decisions as to what systems should continue to operate, and what systems to shut down. Another important aspect of the game is for players to manage their vessel's energy and resources, as well as calculate the risks. For example, firing a shot causes our enemy to spot us, so should we miss the target, the enemy will most probably annihilate us. On the other hand, however, when engaging enemies with long-distance shots, one can never be sure if the target has been eliminated, even after picking up explosion signatures.

Expectations: 7.7 / 10 calculated out of 3 players' votes.
PEGI Rating
System requirements
PC / Windows
Recommended: Intel Core i7, 4 GB RAM, graphic card 2 GB GeForce GTX 960 or better, 1 GB HDD, Windows 10 64-bit
Minimum: Intel Core i5, 2 GB RAM, graphic card 2 GB GeForce GTX 660 or better, 1 GB HDD, Windows 7 64-bit