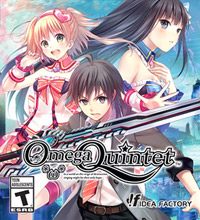 Omega Quintet is a three-dimensional jRPG with a turn-based combat system. The Japanese Compile Heart studio and Idea Factory are responsible for the production. For years they have specialized in creating RPG games from the genre of several popular series, such as Hyperdimension Neptune.
Story
Omega Quintet takes place in an original futuristic world, which is affected by a mysterious phenomenon called Blare. It drastically shortens people's lives and has a negative impact on their well-being. Blare has covered almost the entire planet, and the last remnants of mankind are defending themselves against his influence in a single surviving city. The only people who can oppose Blare's influence are the five young members of The Verse Maidens, who, thanks to their innate and extremely rare skills, are able to fight with the help of singing and dancing against an ominous phenomenon and its effects. Players play the role of a hero named Takt, who is a bodyguard and team manager. Together with his charges, he tries to save the world from the seemingly inevitable catastrophe.
Mechanics
The game resembles the one from the series. Hyperdimension Neptune. Players visit individual locations, moving to them from the two-dimensional map of the world. On site, they perform various side tasks and missions from the main plot, collect items and fight against the creatures visible on the map. Each of the five heroines can use a special action that affects their surroundings during exploration, such as opening an inaccessible path or a shortcut.
The fights take place in separate arenas in turn-based mode. There are five team members in our team. Each of them has unique skills and attacks. During the battle, players must pay attention to the engagement and mood of the spectators (The Verse Maidens adventures are broadcast live on TV). It drops when we are injured or if we fail to hit correctly. When the viewers' moods reach the highest point, we can use special combined attacks that deal massive damage. Players can also choose costumes for female heroines, which have a positive effect on their stats, but at the same time are destroyed during the fight, reducing defense over time.
Technical issues
Graphic design does not differ from the level to which we are accustomed to other Compile Heart games. Despite its presence on the PC and PS4 platform, the title does not offer advanced graphics effects. Models of the environment and opponents are simple and will not delight even the greatest fans of the genre.
Please let us know if you have any comments or suggestions regarding this description.
Age Rating
age requirements: everyone
System requirements
PC / Windows
Recommended: Intel Core i5 3.3 GHz, 8 GB RAM, graphic card 2 GB GeForce 960 or better, 9 GB HDD, Windows 10
Minimum: Intel Core 2 Quad 2.4 GHz, 4 GB RAM, graphic card 1 GB GeForce GTX 650 or better, 9 GB HDD, Windows 7 (64-bit)