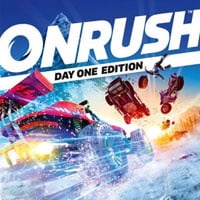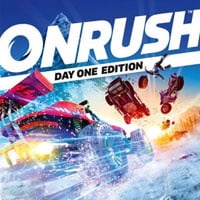 OnRush
An arcade racing game published by Codemasters. It was developed by a team consisting of ex-members of Evolution Studios. OnRush enables the players to participate in unusual competitions focused on spectacular driving style and stunts.
OnRush is a dynamic racing game made by Codemasters Software studio, or more precisely – a team of developers who created franchises like WRC series for PlayStation 2, MotorStorm and DriveClub under the banner of Evolution Studios.
Game mechanics
Compared to other members of the genre, OnRush stands out with features borrowed from so-called "hero shooters" (like the bestselling Overwatch). We don't race to get to the finish line first, as we instead compete in a few types of competitions with different rules and must cooperate with our teammates to win. There are always not only two teams consisting of six people each, but also twelve racers controlled by an artificial intelligence, which bring additional havoc and can be used by real players since they pose no significant threat.
We can choose from eight classes of vehicles with different strong and weak points and special skills (like a shockwave generated after a successful jump, a fire track which hurts our rivals or left-behind stumbling blocks which slow down opponents who hit them). Those classes are Blade and Outlaw motorcycles, Vortex and Charger cars resembling hot rods, futuristic types in form of Dynamo and Interceptor, and finally heavyweight vehicles from Titan and Enforcer categories. It must be noted that each of them has a different way to charge a Rush bar: two-wheeled vehicles make us focus on performing tricks, using Charger is all about passing opponents, and driving Titan comes down to eliminating other competitors.
Game modes
While there is the single-player campaign in OnRush to test our skills in over hundred championships, it is the online multiplayer for eleven players that is the real heart of the game.
As mentioned before, there are a few types of modes. Overdrive is all about charging our Rush to earn more points for our team than rivals; Countdown is a race to checkpoints to give us more time to finish it; in Lockdown, we try to keep control of a fast-moving zone; finally, Switch is about surviving for as long as possible, with our vehicle changing after each death. To make sure we are always in the action, developers included the Stampede system, which brings us right in a middle position after we fell out of track or are left too far behind.
Technical aspects
OnRush uses 3D visuals of decent quality, with rich colors and advanced damage model for vehicles, as well as a wide array of special effects. This is complemented by a soundtrack that cheers us to fight.
Last updated on 07 June 2018
Game mode: single / multiplayer Multiplayer mode: Internet Player counter: 1-12
Expectations: 2.9 / 10 based on 96 votes.
PEGI rating OnRush