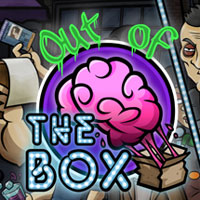 Out of The Box is an adventure game clearly inspired by popular Papers, Please. The production was created by an independent studio Nuclear Tales.
Story
The main character of Out of The Box is Warren Baker, a former gangster who, after spending three years in prison, tries to start a normal life and recover his daughter. For this purpose, the protagonist is hired in the title club (The Box) as a goalkeeper, taking responsibility for which of the potential customers will cross his thresholds, and who will be sent back with a receipt. However, he has to be constantly on the alert, because his decisions affect his future and influence the future of the club and individual guests.
Mechanics
Out of The Box gameplay is primarily about talking to people queuing up; we can meet more than 300 unique characters, including undercover police officers, celebrities, criminals, and clients reminding Baker of his dark past.
When deciding whether or not to admit a particular person to a club, we must first of all stick to the rules set by the boss; these become more and more complex every day, and are also bent during special events like St. Patrick's Day. We often have to verify the age of individual people (means check their documents) or their truthfulness, refuse (or not) to accept bribes, and if the situation requires it - use force. You should not only try to handle the whole queue at the set time, but also be careful; for example, stopping one of the "thick fish" or letting a group of rock lovers go to a celebrity party can end up badly for the club or the hero himself.
History has a non-linear course (determined by our choices, usually morally ambiguous) and can end in several ways; during the course of the story, Baker can, for example, cooperate with the police or an influential gangster, or even get involved with the girlfriend of his boss.
Technical aspects
Out of the Box offers two-dimensional graphics in a distinctive cartoon style.
Age Rating
age requirements: 16+
System requirements
Minimum:
Intel Core 2 Duo
2 GB RAM
graphic card 512 MB GeForce 7800 or better
2 GB HDD
Windows 7/8/8.1/10 64-bit
Recommended:
Intel Core i3
4 GB RAM
graphic card 1 GB GeForce 9800 or better
2 GB HDD
Windows 7/8/8.1/10 64-bit