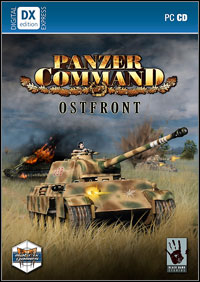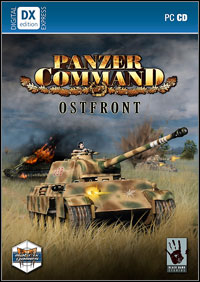 Panzer Command: Ostfront
PC
The third part of the series of tactical war games, the action of which takes place in the realities of World War II. Players play the role of commander of a company belonging to the Soviet or German army.
Panzer Command: Ostfront

Release Date PC

12May2011
developer: Black Hand Studios publisher: Matrix Games/Slitherine Official website

game language: English
Many say that World War II was decided on the Eastern Front. From the initial Blitzkrieg in the Summer of 1941 through the final battles for Berlin in 1945, this was a land war that dwarfed all others in its scale and brutality. Through countless small skirmishes and large operations involving multiple armies, with increasingly deadly and advanced weaponry, the Wehrmacht and Red Army were locked in a fight for national survival that consumed a generation of soldiers and left half a continent in ruins.
Experience the Panzer Command series of tactical wargames. In the new Panzer Command: Ostfront, you are a company-level commander on either the Soviet or German side, fighting on the Eastern Front. Preserve your men and defeat the enemy, there is no other way! Panzer Command: Ostfront is the latest in a new series of 3D turn-based tactical wargames which include single battles, multi-battle operations and full war campaigns with realistic units, tactics and terrain and an informative and practical interface.
Each decision you make as a commander must be weighed carefully. You will find that the gameplay is balanced to reward historically successful tactics while the AI will punish rash choices. The victory system for scenarios and campaigns rewards multiple strategies and evaluates your performance and rank after each battle.
After you have played through the 70+ included scenarios and 10 campaigns (including updated versions of all of the previous Winterstorm and Kharkov content), the Random Battle and Random Campaign generators allow you create new content with just a few clicks using the provided presets for nearly infinite replayability.
For scenario designers and modders, an innovative new Map Maker allows you to create your own realistic 3D maps from 500m to 2km scale based on actual historical locations with auto-generation features that help you create natural 3D landscapes quickly and easily. In conjunction with the powerful Scenario and Campaign Editors and the fully open unit data and models, this means that you have unprecedented access to modify the existing campaigns, maps, units and scenarios or create your own. There has never been a more open 3D tactical WWII wargame.
Last updated on 17 May 2011
Game mode: single / multiplayer Multiplayer mode: E-mail Player counter: 1-2
PEGI rating Panzer Command: Ostfront
Panzer Command: Ostfront System requirements
Recommended:
Pentium IV 1 GHz
1 GB RAM (2 GB RAM - Vista/7)
graphic card 256 MB (GeForce 7600 or better)
2 GB HDD
Windows XP/Vista/7