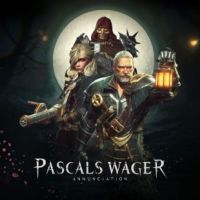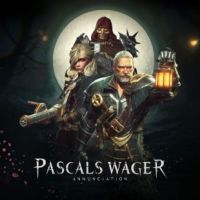 Pascal's Wager
Embedded in a dark fantasy universe, an ambitious soulslike RPG, prepared for mobile platforms. Pascal's Wager uses several interesting ideas in the gameplay mechanics, including madness. It's a debut project of independent TipsWorks studio.
RPG | TPP | fantasy | action RPG | soulslike
Pascal's Wager
Release Date
Pascal's Wager is an RPG that belongs to the soulslike sub-genre, initiated by the Dark Souls series. This means that we are dealing with an extremely demanding title that tries to challenge players all the time. It is worth noting that the artists enriched this formula with their own ideas. The independent Studio TipsWorks is responsible for developing this production and it is his debut project. The game is published by Giant Games.
Plot
The action of Pascal's Wager takes place in a dark fantasy universe, which resembles the well-known Ravenloft setting. The world created by the developers at TipsWorks is sunked in eternal darkness and an impenetrable fog that causes a dangerous disease. According to legends, the star expired a long, long time ago, and soon after that event Colossuses appeared in the world - extremely dangerous, sinister creatures in various shapes and kinds, which over time began to be treated by humans as gods.
The game has four main characters. These are: Terrence (a mercenary, once a servant of the Church, who was later banished by this organization and then by accident discovered circumstantial evidence of a Colossus-related illness - he is now trying to find his wife, Teresa), Viola (a mysterious woman who does not reveal her identity), Norwood (a strange man who hides his face behind a mask and has only one hand) and Benita (Terrence's friend, a nun without sight).
Mechanics
In Pascal's Wager, we observe the action from the third person perspective (TPP). The gameplay is not very different from what we know from other games of this type. Our task is to explore large locations and fight against enemies, which is what gives us the currency (in this game, these are... finger bones), which allows us to both develop our characters and buy equipment (and strengthen our items). Various side tasks and activities are also available.
Fighting is quite difficult, but there are clear rules - we have to learn the patterns of movement of enemies and their attacks and take care of the level of endurance (needed to attack and avoid). The biggest challenge are the mighty bosses, who may require many approaches to overcome. It is important to note that after each death we lose the accumulated (but not spent) experience and have only one chance to regain it (we have to get to the same place, again defeating or avoiding all the enemies that stand in our way). We also can't freely save the state of the game - to do this we have to get to one of the places that make it possible (saving also resets opponents on the map).
TipsWorks Studio enriched the formula known from Dark Souls with some interesting ideas. First, we control more than one character in the game - we can't control more than one character at a time, but there is an option to switch between them (at some moments, however, it may be required to play a particular character). Each of the protagonists has different skills and specializes in using other types of weapons. Several heroes also make the game slightly simpler than a typical soulslike - the final death occurs only when all our characters fall (after the defeat of one hero we switch to the next).
In Pascal's Wager we also have an adrenaline bar which, when charged, allows us to perform exceptionally powerful special attacks.
The last interesting mechanic is madness - when we fight against exceptionally fastidious monsters, our hero gradually goes crazy. This causes the game world to change and makes the combat harder - opponents become stronger and more aggressive, and even use completely new attacks. In addition, on the last level of madness, our hero is put under a weakening curse. At the same time, however, by defeating our enemies under the influence of madness we receive more rewards.
Game modes
We can only play Pascal's Wager alone. The basis of the game is an extensive feature campaign.
Technical aspects
Pascal's Wager offers a three-dimensional graphic design that presents a pretty high level - especially for mobile production. The game environment and characters have a high level of detail, and the engines responsible for lighting and shading do their job well. It is worth noting that the whole thing is maintained in a dark, gloomy climate, characteristic of the dark fantasy convention.
Last updated on 21 January 2020
Game mode: single player
App size:
Age restrictions Pascal's Wager: 12+
Pascal's Wager: Definitive Edition System requirements
Minimum:
Intel Core i3-2100 3.1 GHz / AMD FX-6300 3.5 GHz
4 GB RAM
graphic card 2 GB GeForce GTX 750 Ti / Radeon HD 7950 or better
25 GB HDD
Windows 7(SP1)/8.1/10 64-bit
Recommended:
Intel Core i7-3770 3.4 GHz / AMD FX-8350 4.0 GHz
8 GB RAM
graphic card 4 GB GeForce GTX 970 / Radeon R9 290 or better
25 GB HDD
Windows 7(SP1)/8.1/10 64-bit