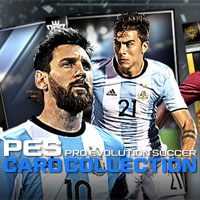 Game mode: multiplayer
Multiplayer mode: Internet
PES Card Collection is a combination of a soccer manager and card game. Inspired by the popular Ultimate Team mode known from FIFA series, the title was developed for AND and iOS by Konami. The publisher decided to use a free-to-play distribution model with optional microtransactions.
Mechanics
In PES Card Collection for AND and iOS the players are collecting cards with the best soccer players in the world. The title enables the users to recruit players from the strongest national teams (like Argentina, Brasil and Portugal) and clubs (including FC Barcelona, Liverpool FC, Arsenal London and Borussia Dortmund). The players can control their dream team and use it against teams managed by other players. It's hard to win without a proper training – the player must create a training plan for his or her players, set the proper formation and select effective tactics.
During the matches the player cannot directly control the football players – they are controlled by artificial intelligence. Player can only activate special skills of the football players when he or she decides it is the right time to do it. Communication with other players possible via emoticons.
Game modes
PES Card Collection for AND and iOS is focused on network play. The title features ranking and casual matches and the so-called Elevens Matches. In the latter, 22 users are playing – each of them can choose one representative of their teams, creating a new team of eleven ultimate soccer players. The developers also organize special Tournaments every now and then, to determine who are the best players in the world.
Technical aspects
The game is based on the mobile, simplified version of Pro Evolution Soccer 2017. This can be seen in the style and the graphics engine used for presenting matches. This means that the title has decent quality, three-dimensional graphics. The title is very fun-oriented – the gameplay is accompanied by a dynamic soundtrack and the commentaries are very emotional.
Age Rating
age requirements: everyone
System requirements
Additional information (iOS):
Internet connection is required.
Additional information (AND):
Internet connection is required.