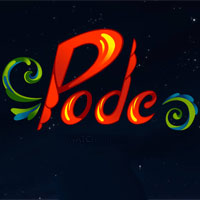 Game mode: single / multiplayer
Multiplayer mode: common screen, players: 1-2
Developed by the independent studio Henchman & Goon, Pode is an adventure title with platformer elements.
Plot
Pode takes us to a colourful, fantastic world. The action kicks off when a shooting star – Glo – falls there. Startled, the being luckily comes across an ally – rock-like Bulder who decides to help the star get back to its home in the sky. Before the heroes achieve their goal, they have to travel through a system of caves situated under Mount Fjellheim and face the dangers it hides.
Mechanics
Pode is about friendship, therefore cooperation between the two heroes plays the key role. Gameplay consists in going through locations and solving puzzles. In order to do so, we need to make use of the heroes' individual skills. For example, Glo can teleport and light up the darkness with its shine, while Bulder is able to manipulate stone levers. By doing this all, the heroes are not only coming closer to achieving their goal, but also they slowly learn about the mystery lying in the antic ruins left by an ancient civilisation and awaken the long-dead cave labyrinth.
Game modes
Pode focuses on multiplayer cooperation. Still, the game can be finished solo, but it takes switching between the heroes during gameplay.
Technical aspects
Despite being quite simple, the 3D visuals of Pode can be considered attractive. The production features a unique style inspired by the Norse nature and art. To make it more immersive, gameplay is accompanied by a relaxing soundtrack.
Similar games:
PEGI Rating
System requirements