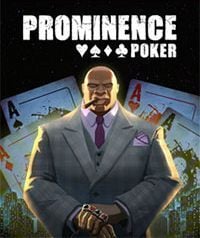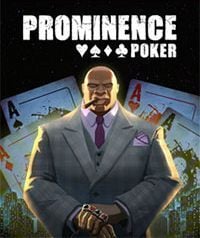 Prominence Poker
A card game created with multiplayer gameplay in mind. The action of Prominence Poker takes place in a fictional city of Prominence, with the players assuming the role of tourists whose task is to convince the local gamblers to respect the newcomer's poker skills.
Prominence Poker is a free-to-play multiplayer card game with MMO elements, available on PC, XONE and PS4. The game was developed by Pipeworks studio. This studio has also developed such productions as Gems of War (in cooperation with Infinite Interactive), Superfight or World Series of Poker: Full House Pro.
Plot
The action of Prominence Poker is set in the fictional city of Prominence, a place famous among the gamblers from all over the world. We play as a tourist who, arriving at a city ruled by a shady figure, must prove their poker skills and then join one of the four local gangs by defeating their boss. The culminating point is a duel with the mysterious "Mayor", the founder of the city, who during the game leads us through all its secrets.
Mechanics
In terms of gameplay, Prominence Poker is a gangster card game in which the games are played according to the classic Texas Holdem rules in the No Limit variant - players can raise all their chips and there is no limit on how many chips they can raise and no limit on the number of chips during the round.
A characteristic feature of the game is the fact that it features typical MMORPG elements. Gangs in the game can be compared to factions, each of which is characterized by favorite locations, different clothes, customizable options, etc. Just like in RPGs, players can take part in tournaments and perform daily and weekly challenges with different difficulty levels and corresponding prizes. Apart from the character leveling system, there are also many possibilities to personalize the hero and modify their various physical features, such as clothes, tattoos and other accessories.
Game modes
Prominence Poker is a multiplayer PvP game in which players from different factions compete against each other, climbing higher and higher in the gangster hierarchy and filling their wallets with cash. However, the developers have not forgotten about players who like to play alone and just want to play a few fast poker duels with a computer AI.
Technical aspects
In terms of graphics, Prominence Poker released on PC, XONE and PS4 is quite different from most typical card games. Both the storyline and the individual duels take place in detailed, fully three-dimensional locations, such as casinos, motorcycle bars, etc. During the game, we can also meet a whole gallery of original, animated characters, made in a cartoony style.
Game mode: massive online multiplayer Multiplayer mode: Internet
PEGI rating Prominence Poker
Prominence Poker System requirements
Recommended:
Intel Core 2 Quad 2.8 GHz
6 GB RAM
graphic card 2 GB GeForce GTX 660 or better
7 GB HDD
Windows 7 (64-bit)