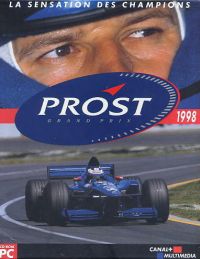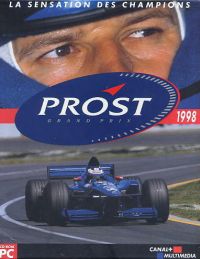 Prost Grand Prix 1998
PC
Focused on Formula 1 racing game, branded with the name of the famous French driver Alain Prosta. We can take part in the championship mode, or practice in the single race or test mode.
Prost Grand Prix 1998

Release Date PC

01January1998
developer: Visiware publisher: Canal+ Multimedia

game language: English
A racing game named after one of the most famous Formula 1 drivers, Alain Prosta, owner of the Prost Grand Prix racing team, which started in the 1997 season, built on the ruins of the bankrupt Ligier team. The publisher of the game is Canal+ Multimedia - a branch of a French media concern, which has been involved in the promotion of this elite sport for years.
Unfortunately, the production does not have an official FIA license, so, apart from the title band Alain Prosta, only fictional teams and drivers appear in the game. Nevertheless, the shapes and colours of the individual cars clearly refer to the cars that participated in the 1995-96 season. Fortunately, the authors took care of an extensive editor, allowing not only to change the names of the teams or drivers, but also to modify their skills and paint and change the performance of the cars.
Simple Grand Prix only allows you to have fun in single player mode and offers three game modes. We can take part in the championship and play a full season of Formula 1 races or practice our skills in single race or test mode. During the season we have to comply with the actual FIA rules, as well as the penalties applied by the judges during the race (such as "stop & go" and even disqualification). Fans of manipulating the settings of cars are given the opportunity to customise elements such as spoilers, tires, transmission ratios, etc. before each race.
Despite the changing weather conditions (such as sun, cloud or rain) and the use of 3D accelerators, the graphic design is breathtaking. The driving model itself is also simplified, and the tuning possibilities are quite modest, so the game lacks some realism.
Please let us know if you have any comments or suggestions regarding this description.
Last updated on 13 November 2013
Game mode: single player
Media type: 1 CD
Age restrictions Prost Grand Prix 1998: Good for all ages.
Prost Grand Prix 1998 System requirements
Recommended:
Pentium 100
16 MB RAM
DOS/Windows 95