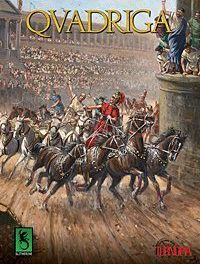 Qvadriga, released on AND, iOS and PC, is a quadriga simulator - carriages drawn by four horses. The action of the game takes place in the Roman Empire. The producer of the title is Slitherine studio, known from the Field of Glory and Battle Academy series and the successful Warhammer 40,000: Armageddon.
Mechanics
In Qvadriga, the player joins one of the six historical factions and takes part in dangerous chariot races. However, this is only a part of their duties - we have to manage our team by taking care of all aspects of the brutal competition. Our tasks include training riders and increasing their abilities, gaining faster and more durable horses, as well as improving chariots. All of this is done during an extensive campaign, which takes place in seven regions of the world, including the Far East and the equally distant north, which is controlled by barbarians.
The game surprises not only with its subject matter but also with the execution. While the tactical aspect, including the process of planning the race and team development, doesn't surprise with too sophisticated solutions, the race itself takes place in quite specific conditions. The player doesn't have direct control over the chariot, but only gives commands to the rider, such as "pull the reins", "change the track", "avoid attacks", "block the rival" or "launch an attack". This can be done in a turn-based mode (using an active pause before each decision) or in real time.
A lot is going on the track. Crashes, caused by dangerous driving, happen frequently. Although the action is not too dynamic, it still manages to make the player excited. As the situation develops, the tactical aspect becomes more and more important - the player exchanges riders, trains successors, and even sells entire teams to have better players to increase their chance of success in subsequent tournaments. After each race, we can repair chariots, heal riders, and even employs veterinarians to care for horses.
The competition takes place on 43 different tracks, mostly modeled on authentic hippodromes and arenas (e.g. the famous Circus Maximus). The latter appear in Qvadriga in several types - there is no shortage of tactical clashes with three rivals, as well as extremely chaotic, but at the same time impressive battles fought between sixteen chariots. Enemies' behavior is governed by an advanced Artificial Intelligence which dynamically adapts to the current situation on the track.
Technical aspects
The interface in the mobile versions was adapted to the touchscreens. Visually, the game didn't undergo major changes.
Age Rating
age requirements: 12+
System requirements
PC / Windows
Minimum: Pentium III 1.6 GHz, 2 GB RAM, graphic card, 1,6 GB HDD, Windows XP/Vista/7/8