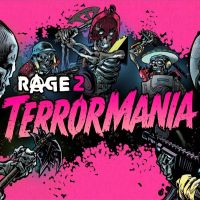 RAGE 2: TerrorMania
TerrorMania is the second big feature add-on to RAGE 2. In the add-on created by Avalanche Studios and id Software, our task is to close the portal connecting the postapocalyptic wilderness with its ghastly version known as the Deadlands.
This is RAGE 2 expansion pack.
Action | FPP | science fiction | zombie | Post Apocalypse | FPS | shooters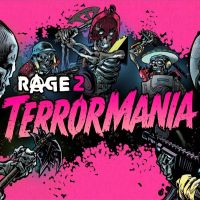 TerrorMania is the second large (and paid) expansion for RAGE 2, an FPS released in May 2019. Just like the base version, the add-on was developed by Avalanche Studios and id Software and published by Bethesda Softworks.
Plot
RAGE 2: TerrorMania introduces a new questline related to the alternative version of the wasteland known as the Deadlands. A group of reckless thugs manages to open a portal connecting it with post-apocalyptic Earth. From now on, the main character is tasked with collecting fragments of the shattered NecroDisc and closing the gate, thus stopping the invasion of "living corpses".
Mechanics
RAGE 2: TerrorMania introduces new weapons. Sword of Transitus is used not only to kill enemies, but also to close portals. Apart from that, we will visit both modified, "ghastly" versions of known places like Wellspring or Overgrown City (which here are called Hellspring and Overbone City), as well as completely new locations (e.g. flying island and hospital). We are opposed by the "undead" incarnations of various adversaries known from the original, such as the Goon Squad, Immortal Shrouded, River Hogs and Abadon Mutants.
Technical aspects
TerrorMania is a non-standalone expansion and requires the base version of the game. Although from a technical point of view, the add-on does not introduce any changes in the visuals, it is maintained in a slightly different style from the original, adopting a Halloween vibe.
Similar games:
PEGI Rating
System requirements
PC / Windows
Recommended: Intel Core i7-4770 3.4 GHz / AMD Ryzen 5 1600X 3.6 GHz, 8 GB RAM, graphic card 8 GB GeForce GTX 1070 / Radeon RX Vega 56 or better, Windows 7/8.1/10 64-bit
Minimum: Intel Core i3-3570 3.4 GHz / AMD Ryzen 3 1300X 3.5 GHz, 8 GB RAM, graphic card 3 GB GeForce GTX 780 / Radeon R9 280 or better, Windows 7/8.1/10 64-bit