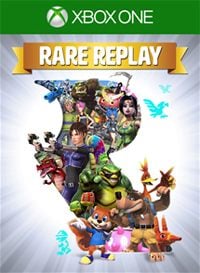 Game mode: single / multiplayer

game language: English
game release date for XONE:
04August2015
Rare Replay is an usual set of games available on Xbox One that contains 30 more or less classic titles created by Rare (later on also known as Rareware). The studio was established in 1982 by Chris and Tim Stamper. Throughout three decades, they created such famous series as Banjo-Kazooie, Donkey Kong, Perfect Dark and Viva Pinata. Rare Replay consists of 30 productions released on various platforms between years 1983 and 2008.
The following games come with Rare Replay set: Jetpac (1983), Atic Atac (1983), Lunar Jetman (1983), Sabre Wulf (1984), Underwurlde (1984), Knight Lore (1984), Gunfright (1986), Slalom (1987), R.C. Pro-Am (1988), Cobra Triangle (1989), Snake Rattle N Roll (1990), Digger T. Rock (1990), Solar Jetman (1990), Battletoads (1991), R.C. Pro-Am II (1992), Battletoads Arcade (1984), Killer Instinct Gold (1996), Blast Corps (1997), Banjo-Kazooie (1998), Jet Force Gemini (1999), Perfect Dark (2000), Banjo-Tooie (2000), Conkerís Bad Fur Day (2001), Grabbed by the Ghoulies (2003), Perfect Dark Zero (2005), Kameo: Elements of Power (2005), Viva Pinata (2006), Jetpac Refuelled (2007), Banjo-Kazooie: Nuts & Bolts (2008) and Viva Pinata: Trouble in Paradise (2008). Alas, the pack misses a few legendary titles, for example: Donkey Kong. The reason for that are copyright issues.
All of the games of Rare Replay were naturally remastered under supervision of their creators and adjusted to Xbox One and its gamepad. The whole is complemented by a big set of Xbox Live achievements that allow the players to improve their Gamer Score even with 10.000 points.

Game score 7.7 / 10 calculated out of 112 players' votes.
Expectations before the premiere: 10 / 10 calculated out of 6 players' votes.
Similar games:
PEGI Rating
System requirements
Microsoft XBOX ONE
Uses: Xbox Live