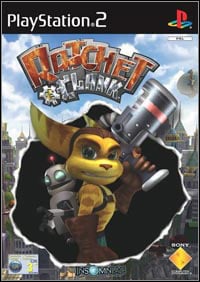 game language: English
game release date for PS2:
04November2002
Ratchet & Clank is the first PlayStation 2 game from Insomniac Games, who brought us Spyro the Dragon, one of the PS one's best loved characters. In Ratchet & Clank, Insomniac presents two characters that look destined to build on the appeal of its reptilian celebrity, and moves the action from an ancient world of legend and castles to a futuristic galaxy where Ratchet uses his space ship to traverse between the planets. Combining action-adventure, exploration, puzzle-solving and combat, this game sees Ratchet, a young mechanic with a reckless love of adventure, and his straight-laced sidekick Clank scouring the solar system for Chairman Drek so they can put the kibosh on his malign plans for the galaxy. And to do this? Weapons, weapons and then more weapons! It's Ratchet & Clank's arsenal of guns and high-tech gadgets that really lie at the heart of this title - over 30 are included in the game. Shoot through the solar system, face-off with some bad-ass bosses and blow up everything that stands in your way - now, that's gotta be an invitation you can't refuse!
The young Ratchet harbours dreams of striking out on a big adventure. Stranded on a forgotten planet, he longs to put his technical know-how to good use and mentally pictures himself engaging in all kinds of hare-brained schemes. But judgement day comes quicker than he imagines when a ship is shot down near his home carrying a curious robot dissident. It turns out that Clank, a diminutive robot with a social conscience, has uncovered a plan by the ruler of Belchworld, Chairman Drek, to build the ultimate planet - comprising the best bits of other planets in the galaxy, regardless of what the residents of these planets think! All Ratchet's birthdays have come at once - fate has brought the duo together and it's up to Ratchet & Clank to stop Chairman Drek in his inter-galactic tracks.
Armed with an impressive rack of weaponry, including such awe-inspiring and cool-sounding tools such as the Bomb Glove, Pyrocitor, Suck Cannon and Devastator, your mission takes in ocean planets, floating space stations and giant alien cityscapes as you try and contain Drek and his minions while (but of course) avoiding your own grisly death. Extra boost power comes courtesy of Clank, who's attached firmly to your back and can be transformed into a helipack, thrusterpack and hydropack at various junctures during the mission. Indeed, this is a game where everything and everyone has an extra dimension - there's real depth that's not usually found in 3D action games.
Whether you're big on graphics and environments, you enjoy the power of wielding weapons of mass destruction, or you simply love a good old fashioned fight between good and evil, Ratchet & Clank will fire your imagination and get you, as Insomniac so succinctly puts it, 'blowing the crap out of enemies'. You can't say fairer than that!
* The first PlayStation 2 title from Insomniac, creators of Spyro the Dragon
* Awesome array of weapons and gadgets - over 30 featured
* Plot twists and subplots incorporated into each level
* Blow up a whole load of aliens and vehicles!
* Use Ratchet and Clank together or apart to solve puzzles and adopt strategies

Game score 8.8 / 10 calculated out of 548 players' votes.
PEGI Rating
System requirements