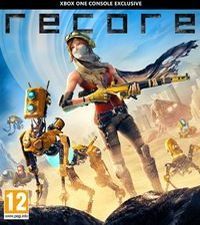 Recore is a science-fiction action adventure game, originally designed for Xbox One and later ported to PC. The title is a shared work of Comcept Ė a studio founded by Keiji Inafune, an ex-employee of Capcom, who co-created such franchises as MegaMan, Onimusha, and Dead Rising Ė and Armature Studio that hires former creators of Metroid Prime, a series of an equally iconic status.
Story
The gameís story is a rather grim vision of the mankindís future and its eventual fall. You play as one of the last representatives of the human race, a girl named Jewel, who traverses the post-apocalyptic world ruled by a faction of robots that aim to completely eradicate humans. On her journey she is accompanied by a robot called Mack, who belongs to a pro-human faction. The two have to find a way to restore the world to its former order and restore the dying human race.
Gameplay
Gameplay boils down to exploration of the massive world, comprising mostly of sandy deserts. The key aspect is survival in this unfriendly environment and fighting hostile robots. The heroine makes use of a wide selection of weapons and gadgets, however, the key to success is a good use of various abilities of the robots you encounter. Each robot in this world has an identity core, which can be transferred into the body of another machine in order to acquire the hostís unique skills, while the core retains its original identity. This is how your companion Mack gets more and more powerful and gains new skills as you play, while always staying the same friendly robot who remembers everything that happened before.
Technology
Recore for PC and XONE stands out with its high quality, slightly post-apocalyptic visual style. Especially noteworthy are the pretty frequent sandstorms, which are more than just a visual effect. After each sandstorm the world changes, which may complicate navigation, but also reveal previously inaccessible areas of the map with hidden treasures and useful items.
Similar games:
PEGI Rating
System requirements
Minimum: Intel Core i5 4460 2.70 GHz/AMD FX-6300 3.5 GHz, 8 GB, graphic card 2 GB GeForce GTX 660/Radeon R7 or better, Windows 10
Recommended: Intel Core i5 4690 3.9 GHz, 16 GB, graphic card 4 GB GeForce GTX 970/Radeon R9 or better, Windows 10