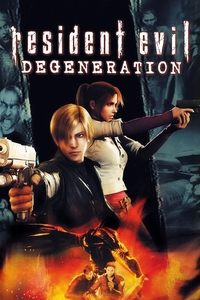 game language: English
game release date for iOS:
12May2009
Resident Evil: Degeneration is a mobile version of the cult survival horror series, based on the events presented in an animated film of the same title, which premiered in October 2008. The game was released on iOS mobile devices, and Ideaworks 3D studio is responsible for its creation, with titles such as Tomb Raider, Tony Hawk's Pro Skater and Colin McRae Rally, released on the Nokia N-Gage platform.
The plot of the game loosely refers to the events shown in the film, especially its initial scenes. 7 years after the tragedy that took place on the streets of Raccoon City, Harvardville Airport in the United States is the victim of a hordes of living corpses. Resident Evil Leon S. Kennedy, known from the second and fourth parts, enters the action again. His task will be to help evacuate the survivors and, of course, to deal with bloodthirsty zombies.
The action of the game is observed right behind the head of our protagonist, who has at his disposal means typical for the series, such as a knife and several types of firearms. Leon S. Kennedy confronts a variety of opponents, including those absent from the film, although known from earlier editions of the cycle, Cerberus and Tyrants. The interface is simple and intuitive, and the laser viewfinder makes it easy to eliminate enemies. To manage your equipment and data collected during the game, we use a handy PDA, which also includes maps of individual locations.
When it comes to Resident Evil: Degeneration is at an average level. Although we move in a fully three-dimensional environment, the quality of the models and characters leaves a lot to be desired. The game also takes advantage of the specific capabilities of mobile devices, such as the built-in accelerometer. Shaking your smartphone, you can reload weapons and attack enemies.
Please let us know if you have any comments or suggestions regarding this description.
Age Rating
age requirements: 12+