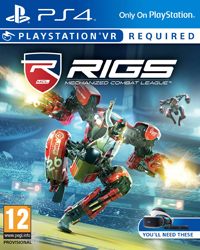 game language: English
game release date for PS4:
13October2016
Rigs: Mechanized Combat League for PS4 and PlayStation VR is a first-person shooter by Guerilla Cambridge (a division of Guerilla Games) meant for single and multiplayer play.
Plot
The action of the production takes place in the future. The players take part in the Mechanized Combat League — a futuristic sport in which, as pilots of fast and agile mechs, the eponymous Rigs, we fight other participants on special arenas. Our goal is to become a superstar of the discipline.
Mechanics
The title combines elements of various genres. Generally, it is an arcade arena FPP shooter mixed with basketball. The players control mechs and fight their opponents for points that are scored if they manage to jump through a big band at the right moment. To do this, we have to clear the path to the goal by shooting enemies with the available weapons. Of course, it works both ways, and we cannot let the opposing team to reach the key points of the arena. Mechs are incredibly agile and maneuverable, can jump, and run with considerable speed. Moreover, each of over 20 models is suited for a different kind of play. What's important, the robots we unlock in the solo campaign are used in the multiplayer mode, as well.
Game modes
Rigs: Mechanized Combat League for PS4 allows us to play in several modes. The basic one is 3 vs 3 in which the team with most points wins the game. Apart from that, we can also play a 1 vs 1 duel. In the latter case, the two remaining pilots from our teams are controlled by the AI.
Apart from multiplayer mode, the game features a single player campaign that lets us become a pilot and hire AI-controlled teammates to play subsequent matches with. What's interesting, in this mode, we pay our colleagues with fame earned for our scores (the better the score, the more fame we get). More skilled pilots cost more, of course, but in the later matches they tend to be indispensable. Apart from that, we also have to gain sponsors in our career. Thanks to them, we can get access to, for example, new clothing.
Technical aspects
The graphics of Rigs: Mechanized Combat League make it one of the prettiest productions meant solely for PlayStation VR, although the available arenas are quite empty and not very detailed.

Game score 3.2 / 10 calculated out of 200 players' votes.
Expectations before the premiere: 2.5 / 10 calculated out of 39 players' votes.
Similar games:
PEGI Rating